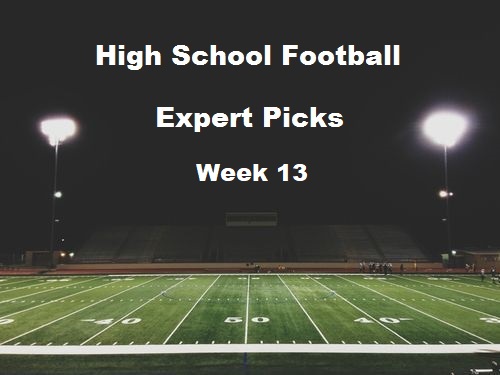 Week 12 was an OK one for the experts. We all went 7-3 which is pretty amazing considering how many different picks we all had. Week 13 is another tough one because it is revenge week. Six of the games are rematches between teams that have already played this year. Most of those games were very close. Revenge could play a big factor now that the games are win or go home.
There is only 1 game between ranked teams and that goes down in Miami where Central battle Northwestern. The Northwestern Bulls took the first game of the season 21-7 about a month ago. These two teams are so evenly talented and in the style of play that we expect this game to be much closer. Three of the rematches this week come from the Ohio Division I regional finals. Two of those games were decided by 3 points the first time and the other by 10 points. Bingham and East meet for the second time this year for the Utah 6A title. Everyone was clamoring for this game at the end of the year last year and now they get it. Bingham dominated the first game but we expect the Leopards to put up a much better fight this time. The last rematch comes from the Illinois 8A semifinals. While this may only be the semifinal, Maine South and Lincoln-Way East are the two best teams in the state. Lincoln-Way East won the first game 28-26 so this should be another battle. The are state title games from Hawaii, Idaho and Missouri plus a big Florida 7A game to round out the schedule.
Don't agree with our picks? Let us know about them on Twitter or in the comments below. Make sure to go follow Jeff Fisher from HighSchoolFootballAmerica.com, Zack Poff from MaxPreps.com and Joshua Wilson from FloridaHSFootball.com.
Follow us @PrepForce1 to keep track of the picks and to vote on each of the games to see if you can do better than we do. Check out our Top 25 High School Football Rankings
| | | | | |
| --- | --- | --- | --- | --- |
| | Scott Kay | Zack Poff | Jeff Fisher | Joshua Wilson |
| | @PrepForce1 | @MaxPreps | @JeffFisherMedia | @FlaHSFootball |
| Miami Central vs Northwestern | Central | Central | Central | Northwestern |
| East vs Bingham | Bingham | Bingham | East | Bingham |
| St. Xavier vs Colerain | Colerain | Colerain | Colerain | Colerain |
| Pick Central vs Pick North | Pick North | Pick Central | Pick Central | Pick Central |
| St. Ignatius vs Mentor | St. Ignatius | St. Ignatius | St. Igantius | St. Ignatius |
| Christian Brothers vs Blue Springs | Christian Brothers | Christian Brothers | Christian Brothers | Christian Brothers |
| Viera vs Plant | Viera | Plant | Viera | Viera |
| Maine South vs Lincoln-Way East | Lincoln-Way East | Lincoln-Way East | Maine South | Lincoln-Way East |
| Kahuku vs Saint Louis | Saint Louis | Saint Louis | Saint Louis | Saint Louis |
| Coeur d'Alene vs Highland | Coeur d'Alene | Coeur d'Alene | Coeur d'Alene | Coeur d'Alene |
| Season Record | 87-32 | 83-36 | 79-40 | 75-44 |