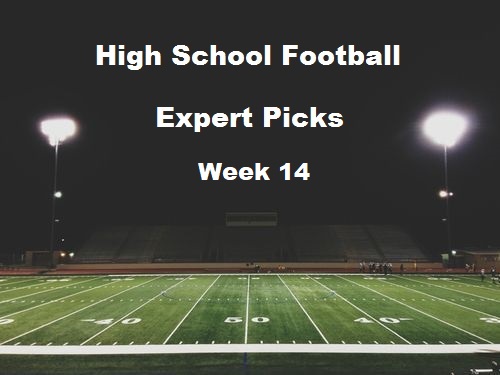 Week 14 is loaded with playoff games all around the country highlighted by a couple of California Southern Section games between ranked opponents. The game of the week will be St. John Bosco vs Centennial. These two seem to meet each other late in the playoffs ever year lately. The key to this game will be Tanner McKee. he was knocked out of last week's game with a concussion. He is likely to play but if he is anything less than great the Braves and DJ Uiagalelei will have the upper hand. The other 3 experts are rolling with Centennial but we are taking the Braves. The other southern section game has Mission Viejo vs Mater Dei. The Monarchs can do wonders for their national title hopes with a convincing win.
There was a lot of agreement this week between the other experts. They agreed on 9 out of 10 games. The most surprising of those to us was them all picking Colquitt County. The Packers are playing Archer who most polls have as the top ranked team left in the state of Georgia. We disagreed with them on that and 3 other those games. As you know our consensus picks have been 50% this year so that puts Mater Dei, American Heritage, Miami Northwestern, Colerain and Fort Dorchester on upset alert. At this point in the season there are few huge shocks but any of those losing could effect national rankings.
Don't agree with our picks? Let us know about them on Twitter or in the comments below. Make sure to go follow Jeff Fisher from HighSchoolFootballAmerica.com, Zack Poff from MaxPreps.com and Joshua Wilson from FloridaHSFootball.com.
Follow us @PrepForce1 to keep track of the picks and to vote on each of the games to see if you can do better than we do. Check out our Top 25 High School Football Rankings
| | | | | |
| --- | --- | --- | --- | --- |
| | Scott Kay | Zack Poff | Jeff Fisher | Joshua Wilson |
| | @PrepForce1 | @MaxPreps | @JeffFisherMedia | @FlaHSFootball |
| Centennial vs. St. John Bosco | St. John Bosco | Centennial | Centennial | Centennial |
| Mater Dei vs. Mission Viejo | Mater Dei | Mater Dei | Mater Dei | Mater Dei |
| American Heritage vs Cardinal Gibbons | American Heritage | American Heritage | American Heritage | American Heritage |
| Miami Northwestern vs. Carol City | Northwestern | Northwestern | Northwestern | Northwestern |
| Fort Dorchester vs. Dutch Fork | Fort Dorchester | Fort Dorchester | Fort Dorchester | Fort Dorchester |
| Judson vs. Lake Travis | Judson | Lake Travis | Lake Travis | Lake Travis |
| Pickerington Central vs. Colerain | Colerain | Colerain | Colerain | Colerain |
| Hoover vs Thompson | Thompson | Hoover | Hoover | Hoover |
| Maryville vs Oakland | Oakland | Oakland | Maryville | Oakland |
| Archer vs Colquitt County | Archer | Colquitt | Colquitt | Colquitt |
| Season Record | 92-37 | 90-39 | 83-46 | 82-47 |