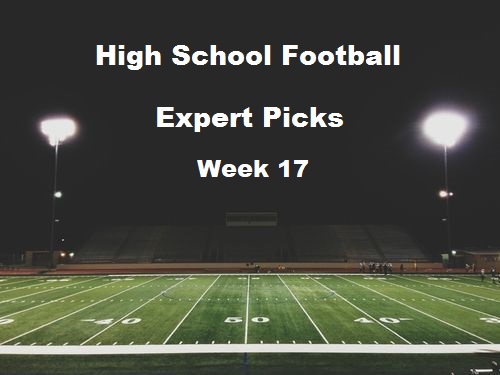 Week 17 is here and there are only 3 states still playing, California, Georgia and Texas. For California and Georgia this is their final week. They will crown their state champions and that will only leave Texas still playing. Next week will be the state finals for Texas and the Geico Bowl games which were announced this week. For those of you that missed it they will be St. Frances Academy vs Bingham and Miami Northwestern vs Chandler.
California gives us the only game of the week between two ranked teams. mater Dei is considered the #1 team in the country while most polls have De La Salle in the Top 20. That being said most don't expect this game to be close. The one thing De La Salle has going for them is that Mater Dei has never beat them. Unfortunately for many of the players those games were won before they were born. The only way we see this game being close is if Mater Dei has a let down after finally getting over the hump and beating St. John Bosco to win the Southern Section last week. While that game may be a blowout the other two California games we have this week are tossups. While we all agree that Narbonne will beat Pittsburg we wouldn't be surprised to see the Pirates pull it out. Narbonne struggled early in the season when they had to play tough defenses and Pittsburgh has a stout defense. Narbonne has the talent advantage but Pittsburgh has the defacto home field and we foresee a low scoring game. The Division 1-AA game between Helix and Folsom should be a close one as well. Three out of four experts chose Folsom but this is another game that should be close late.
The two Georgia games this week are a tossup as well. These game were pushed back a week because of the snow last week. That means they had to be moved from the neutral Mercedes Benz stadium and became home games for the two teams. North Gwinnett and Lee County get the benefit of the snow but that could just motivate the road teams to play harder. We have 5 games from Texas this week that are all state semifinal game. The experts agreed on every single game. It would be shocking if all five of those teams won based on our track record.
Don't agree with our picks? Let us know about them on Twitter or in the comments below. Make sure to go follow Jeff Fisher from HighSchoolFootballAmerica.com, Zack Poff from MaxPreps.com and Joshua Wilson from FloridaHSFootball.com.
Follow us @PrepForce1 to keep track of the picks and to vote on each of the games to see if you can do better than we do. Check out our Top 25 High School Football Rankings
| | | | | |
| --- | --- | --- | --- | --- |
| | Scott Kay | Zack Poff | Jeff Fisher | Joshua Wilson |
| | @PrepForce1 | @MaxPreps | @JeffFisherMedia | @FlaHSFootball |
| Mater Dei vs. De La Salle | Mater Dei | Mater Dei | Mater Dei | Mater Dei |
| Helix vs. Folsom | Folsom | Helix | Folsom | Folsom |
| Narbonne vs. Pittsburg | Narbonne | Narbonne | Narbonne | Narboone |
| Katy vs. Lake Travis | Katy | Katy | Katy | Katy |
| Cy-Fair vs. Westlake | Westlake | Westlake | Westlake | Westlake |
| Allen vs. Cedar Ridge | Allen | Allen | Allen | Allen |
| Longview vs. Midway | Midway | Midway | Midway | Midway |
| Ryan vs. Highland Park | Ryan | Ryan | Ryan | Ryan |
| Colquitt Co. at North Gwinnett | North Gwinnett | Colquitt Co. | Colquitt Co. | North Gwinnett |
| Coffee at Lee Co. | Lee Co. | Coffee | Lee Co. | Lee Co. |
| Season Record | 110-48 | 108-50 | 102-56 | 103-55 |