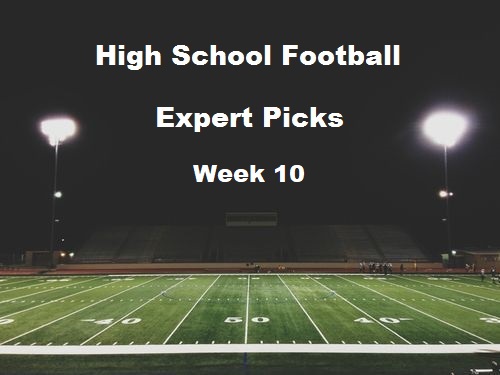 Week 9 was not kind to the experts with only us having an above .500 week. We were 3-4 in games we all agreed on which seems to be the trend throughout the year. This week we have a consensus on 5 games. That means a couple out of St. Edward, DeSoto, St. Xavier (OH), Lowndes and Chandler will likely lose. This week's slate of games is highlighted by The Holy War in Ohio between St. Ignatius and St. Edward. We are interested to see how this game plays out as these teams could very well meet again in the state playoffs. St. Edward is protecting an undefeated season but in this rivalry anything can happen.
We have a good mix of games this week including the battle to see who the best team in Alabama is between Thompson and Hoover. We have our first game with Arkansas teams this year and match-up of undefeated Texas teams. It will be interesting to see how a couple of nationally ranked teams coming off their first loss of the season respond. Both Miami Central and St. Xavier (OH) better bring their A game or they could be looking at two straight losses.
Make sure to go follow Jeff Fisher from HighSchoolFootballAmerica.com, Zack Poff from MaxPreps.com and Joshua Wilson from FloridaHSFootball.com.
Follow us @PrepForce1 to keep track of the picks and to vote on each of the games to see if you can do better than we do. Check out our Top 25 High School Football Rankings
| | | | | |
| --- | --- | --- | --- | --- |
| | Scott Kay | Zack Poff | Jeff Fisher | Joshua Wilson |
| | @PrepForce1 | @MaxPreps | @JeffFisherMedia | @FlaHSFootball |
| St. Ignatius at St. Edward | St. Edward | St. Edward | St. Edward | St. Edward |
| Miami Central vs Carol City | Miami Central | Miami Central | Miami Central | Carol City |
| Duncanville at DeSoto | DeSoto | DeSoto | DeSoto | DeSoto |
| Archbishop Moeller at Winton Woods | Winton Woods | Winton Woods | Moeller | Winton Woods |
| Gonzaga at Good Counsel | Good Counsel | Gonzaga | Good Counsel | Gonzaga |
| St. Xavier (OH) at St. Xavier (KY) | St. Xavier (OH) | St. Xavier (OH) | St. Xavier (OH) | St. Xavier (OH) |
| Thompson at Hoover | Thompson | Hoover | Hoover | Hoover |
| Colquitt County at Lowndes | Lowndes | Lowndes | Lowndes | Lowndes |
| North Little Rock at Bryant | North Little Rock | North Little Rock | Bryant | North Little Rock |
| Hamilton at Chandler | Chandler | Chandler | Chandler | Chandler |
| Season Record | 62-27 | 61-28 | 57-32 | 55-34 |