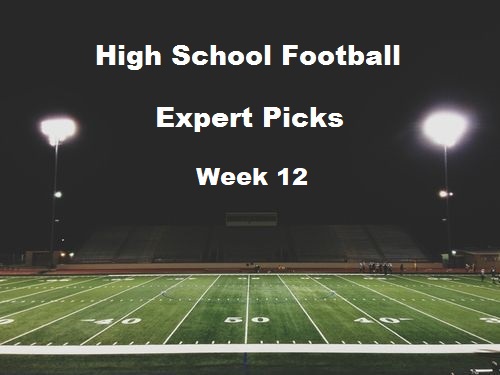 It's week 12 and the playoffs are finally here for almost all of the country. This week we have playoff matchups from first round games in Florida all the way up to a state title game in South Dakota. While there are no games involving nationally ranked teams, there are some fringe teams that could easily jump in next week with big wins.
The experts only agree on 4 games this week. Last week was the first week all year where we all looked like geniuses for picking the same team. We went a combined 37-3 last week so lets hope that keeps up but I highly doubt it. East, ST. Edward, Camas and Washington area ll hoping we stay on our hot streak I can assure you of that. There are two games where we disagreed with the other experts. In both of those games we went with the lower ranked team, in most state polls not necessarily seed. We went with the Jones because they are at home and Eureka because we think they have a chip on their shoulder. It is very likely you will see a few of this week's winners in the picks next week as well. That is the beauty about this time of year.
Make sure to go follow Jeff Fisher from HighSchoolFootballAmerica.com, Zack Poff from MaxPreps.com and Joshua Wilson from FloridaHSFootball.com.
Follow us @PrepForce1 to keep track of the picks and to vote on each of the games to see if you can do better than we do. Check out our Top 25 High School Football Rankings
| | | | | |
| --- | --- | --- | --- | --- |
| | Scott Kay | Zack Poff | Jeff Fisher | Joshua Wilson |
| | @PrepForce1 | @MaxPreps | @JeffFisherMedia | @FlaHSFootball |
| East vs Lone Peak | East | East | East | East |
| St. Edward vs Mentor | St. Edward | St. Edward | St. Edward | St. Edward |
| Pickerington North vs Centerville | Pick North | Centerville | Pick North | Centerville |
| Cardinal Gibbons at Jones | Jones | Cardinal Gibbons | Cardinal Gibbons | Cardinal Gibbons |
| Bolles at Trinity Christian | Trinity Christian | Trinity Christian | Bolles | Trinity Christian |
| Camas at Central Valley | Camas | Camas | Camas | Camas |
| Washington vs Roosevelt | Washington | Washington | Washington | Washington |
| Spring Valley at Conway | Spring Valley | Spring Valley | Spring Valley | Conway |
| Norman North at Broken Arrow | Broken Arrow | Norman North | Norman North | Broken Arrow |
| Eureka vs Christian Brothers | Eureka | Christian Brothers | Christian Brothers | Christian Brothers |
| Season Record | 80-29 | 76-33 | 72-37 | 68-41 |