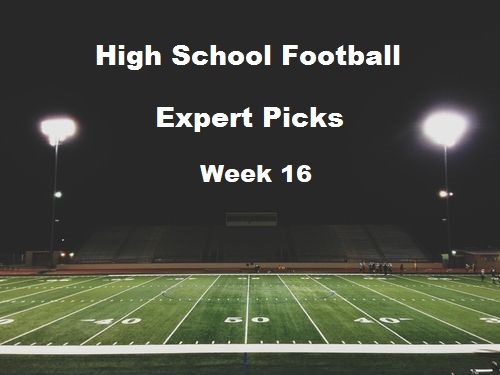 Week 16 is here and its championship week for a lot of states including Florida, North Carolina, Louisiana, Pennsylvania, Georgia and Alabama. We had to get the picks on on Wednesday this week as the Alabama 7A final between Hoover and McGill-Toolen is tonight. Wednesday state finals games don't seem ideal but that's not our decision. The game we are most excited about is Pennsylvania 6A finals con Saturday afternoon between Pine-Richland and St. Joseph's Prep. Both teams are undefeated and in most of the national top 25 rankings. We have St. Joseph's Prep ranked higher so the Hawks are our choice but as you can see the experts are split right down the middle.
Three games this week come from Florida. The experts agree on the 3A and 7A games but we have seen this year that is not always a good thing for the team we pick. We wouldn't be surprised to see Oxbridge Academy make us look bad this weekend. Zack Poff has Armwood winning the 6A title over Miami Northwestern, while the rest of us have the Bulls.
Georgia and North Carolina should provide us some great games as well. There are no consensus on any of the 3 games and we are split down the middle on 2 of them. Can North Gwinnett win their first state title or will Rush Propst continue to show why he is one of the premiere high school football coaches in all of the country? Mallard Creek and Wake Forest are undefeated and clearly the two best teams in North Carolina. Can Wake Forest go back to back or will Mallard Creek reestablish themselves as the best team in the state as they have many years before.
AS you can tell we are really excited for the games this week, but sad to know the season is almost coming to and end. Don't agree with our picks? Let us know about them on Twitter or in the comments below. Make sure to go follow Jeff Fisher from HighSchoolFootballAmerica.com, Zack Poff from MaxPreps.com and Joshua Wilson from FloridaHSFootball.com.
Follow us @PrepForce1 to keep track of the picks and to vote on each of the games to see if you can do better than we do. Check out our Top 25 High School Football Rankings
| | | | | |
| --- | --- | --- | --- | --- |
| | Scott Kay | Zack Poff | Jeff Fisher | Joshua Wilson |
| | @PrepForce1 | @MaxPreps | @JeffFisherMedia | @FlaHSFootball |
| Pine-Richland vs. St. Joseph's Prep | St. Joseph's Prep | St. Joseph's Prep | Pine-Richland | Pine-Richland |
| Hoover vs. McGill-Toolen | Hoover | Hoover | Hoover | Hoover |
| Miami Northwestern vs. Armwood | Northwestern | Armwood | Northwestern | Northwestern |
| Oxbridge vs. Chaminade-Madonna | Chaminade-Madonna | Chaminade-Madonna | Chaminade-Madonna | Chaminade-Madonna |
| North Gwinnett vs. Colquitt Co. | North Gwinnett | Colquitt Co. | Colquitt Co. | North Gwinnett |
| Mallard Creek vs. Wake Forest | Mallard Creek | Wake Forest | Mallard Creek | Wake Forest |
| Scotland vs Harding University | Scotland | Harding | Scotland | Scotland |
| University Lab vs De La Salle | University Lab | University Lab | University Lab | University Lab |
| Helix vs Oaks Christian | Helix | Helix | Helix | Helix |
| Bartram Trail vs Venice | Venice | Venice | Venice | Venice |
| Season Record | 104-45 | 101-48 | 95-54 | 95-54 |