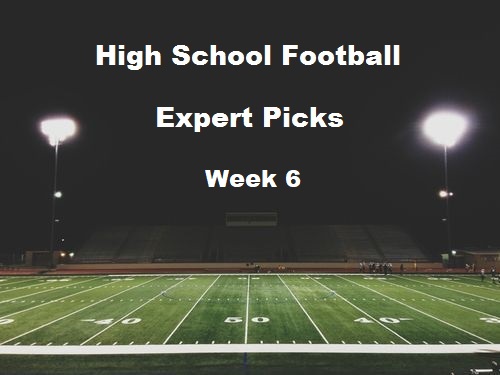 Week 5 was a good week for 3 out of the 4 experts including a 9-1 record by Zack Poff from MaxPreps. Most of the big interstate matchups are done as we get into state and district play for most teams. This means there aren't as many high ranked teams playing each other but that doesn't mean the games are any less meaningful. As usual IMG is included in this week's games as they take on another Miami power in Northwestern. Last week Miami Central game the Ascenders all they could handle. The Bulls play a similar style of football so that game should be another great one. The game of the week comes to us from Oklahoma where Owasso and Union will go to battle in Bill Blankenship's return to Union. These are considered by far the best two teams in the state and this should be a state title preview. There are a couple of battles of teams trying to separate themselves in New Jersey and A Bishop Sullivan team trying to get back on track against Colquitt County down in Georgia. Let us know how you think these games will go down in the comments and vote in our polls on Twitter.
Make sure to go follow Jeff Fisher from HighSchoolFootballAmerica.com, Zack Poff from MaxPreps.com and Joshua Wilson from FloridaHSFootball.com.
Follow us @PrepForce1 to keep track of the picks and to vote on each of the games to see if you can do better than we do.
| | | | | |
| --- | --- | --- | --- | --- |
| | Scott Kay | Zack Poff | Jeff Fisher | Joshua Wilson |
| | @PrepForce1 | @MaxPreps | @JeffFisherMedia | @FlaHSFootball |
| Northwestern vs IMG | IMG | Northwestern | IMG | IMG |
| Owasso at Union | Owasso | Union | Union | Union |
| Bishop Sullivan at Colquitt County | Bishop Sullivan | Colquitt County | Colquitt County | Colquitt County |
| Paramus Catholic at St. Peter's Prep | St. Peter's Prep | St. Peter's Prep | St. Peter's Prep | St. Peter's Prep |
| St. Joseph Regional at Bergen Catholic | Bergen Catholic | St. Joseph Regional | St. Joseph Regional | St. Joseph Regional |
| McDonogh at Archbishop Spalding | McDonogh | McDonogh | McDonogh | Archbishop Spalding |
| Pickerington Central at Lincoln | Pickerington Central | Pickerington Central | Pickerington Central | Pickerington Central |
| St. Xavier at Trinity | Trinity | Trinity | St. Xavier | Trinity |
| Folsom at Granite Bay | Folsom | Folsom | Folsom | Folsom |
| Winton Woods at Bishop Chatard | Winton Woods | Winton Woods | Bishop Chatard | Winton Woods |
| Season Record | 34-15 | 31-18 | 30-19 | 25-24 |