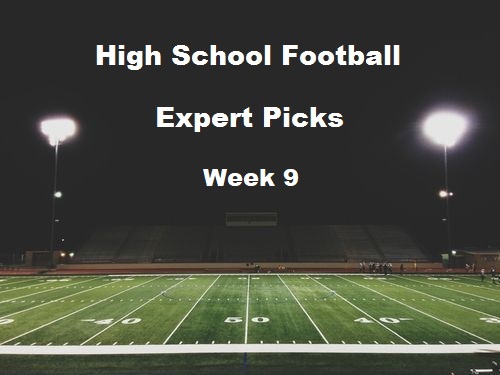 Week 8 was another good week for the experts who went a combined 29-11 led by Josh Wilson. For having such a tough slate of games there is a lot of agreement on the games which hasn't always proven as the best indicator of future success. One game in which we did not all agree on was IMG vs. East. Jeff Fisher is calling for the upset in that one. As he said to us when making the pick you are seeing that right I'm going with East. If the Leopards pull out the win Fisher will look like a genius.
We were really torn on a couple of games this week including the Carol City vs Booker T and Elkhorn South vs Gretna games. We think the F5 Tornadoes will show up in a must win game but the status of QB Daniel Richardson is up in the air so we went with Carol City. The game tonight going down in Nebraska is a great one as top ranked Elkhorn South travels to Gretna. Both teams are undefeated and have rolled through the season. We were really looking forward to the Dematha vs St John's game early in the season but the Stags have stumbled as of late. Can they rally and save their season? The experts don't think so. The game of the week for us is going down in Miami where Central and Northwestern battle. The Rockets are looking to avenge last year's heart breaking loss and prove they are one of the best teams in the country again. The Bulls would love nothing more than to ruin the dream season.
Make sure to go follow Jeff Fisher from HighSchoolFootballAmerica.com, Zack Poff from MaxPreps.com and Joshua Wilson from FloridaHSFootball.com.
Follow us @PrepForce1 to keep track of the picks and to vote on each of the games to see if you can do better than we do. Check out our Top 25 High School Football Rankings
| | | | | |
| --- | --- | --- | --- | --- |
| | Scott Kay | Zack Poff | Jeff Fisher | Joshua Wilson |
| | @PrepForce1 | @MaxPreps | @JeffFisherMedia | @FlaHSFootball |
| IMG at East | IMG | IMG | East | IMG |
| Miami Central vs Miami Northwestern | Miami Central | Miami Central | Miami Central | Miami Central |
| St Xavier at St. Ignatius | St. X | St. X | St. X | St. X |
| St. Pius X at All Saints | All Saints | St. Pius X | St. Pius X | All Saints |
| St. John Bosco vs Santa Margarita | St. John Bosco | St. John Bosco | St. John Bosco | St. John Bosco |
| St. Joseph Regional at St. Peter's Prep | St. Peter's Prep | St. Peter's Prep | St. Joseph Regional | St. Joseph Regional |
| Tift County at Colquitt County | Colquitt County | Colquitt County | Colquitt County | Colquitt County |
| Dematha at St. John's | St. John's | St. John's | St. John's | St. John's |
| Carol City vs Booker T. Washington | Carol City | Carol City | Carol City | Carol City |
| Elkhorn South at Gretna | Elkhorn South | Elkhorn South | Elkhorn South | Elkhorn South |
| Season Record | 56-23 | 56-23 | 54-25 | 50-29 |