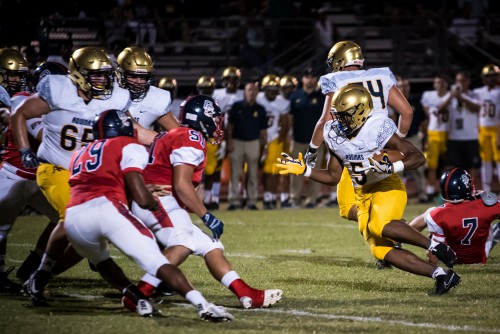 Photo from DonnaMundyPhotography.com/Donna Mundy
The first big shocker of the year came this weekend and its shaking up the rankings. Centennial (AZ) shut out St. Thomas Aquinas 12-0. The circumstances for the Raiders weren't great as they had to play thier first game in 25 days on Monday and then fly cross country to play Friday night. That being said the Coyotes showed that they are for real and jumped into the rankings at #12. The loss also hurts St. John Bosco for now as the braves drop to #6. We are very interested to see the Braves game this week with orange Lutheran and more important the QB situation. If DJ Uiagalelei, which we think he should, and the Braves win easily they will jump back up.
There is one other new team in the rankings this week and that is Lowndes. The Vikings schedule has not been the toughest so far this year but they have been rolling opponents. They have a couple of tough games against Tift County and Colquitt County in the next few weeks that will show if they are truly for real. Brentwood Acadmey and Judson drop out of the rankings despite not losing. Brentwood Academy's best win was over Bishop Dunne (TX) and that victory is not looking nearly as impressive as when it happened. Judson struggled with a Steele team that is not as good as usual this year.
Check out who the experts pick in the other Top 10 games of the week in the Pickem Contest later this week. Also follow us on Twitter @PrepForce1 and like us on Facebook PrepForce to keep up with our weekly rankings and predictions as well as our world famous highlights. We have started releasing some early season highlights so go watch them.
| | | |
| --- | --- | --- |
| Rank | School | City, State |
| 1 | Mater Dei | Santa Ana, CA |
| 2 | IMG Academy | Bradenton, FL |
| 3 | Miami Central | Miami, FL |
| 4 | Centennial | Corona, CA |
| 5 | American Heritage | Plantation, FL |
| 6 | St John Bosco | Bellfower, CA |
| 7 | Allen | Allen, TX |
| 8 | Grayson | Loganville, GA |
| 9 | St. Frances Academy | Baltimore, MD |
| 10 | Bishop Gorman | Las Vegas, NV |
| 11 | Desoto | Desoto, TX |
| 12 | Centennial | Peoria, AZ |
| 13 | Bingham | Jordan, UT |
| 14 | St. Joseph's Prep | Philadelphia, PA |
| 15 | St. Thomas Aquinas | Ft. Lauderdale, FL |
| 16 | Dematha | Hyattsville, MD |
| 17 | St. Xavier | Cincinnati, OH |
| 18 | Ben Davis | Indianaplois, IN |
| 19 | Katy | Katy, TX |
| 20 | Mission Viejo | Mission Viejo, CA |
| 21 | South Pointe | Rock Hill, SC |
| 22 | De La Salle | Concord, CA |
| 23 | St John's College | Washington, DC |
| 24 | Trinity | Louisville, KY |
| 25 | Lowndes | Valdosta, GA |