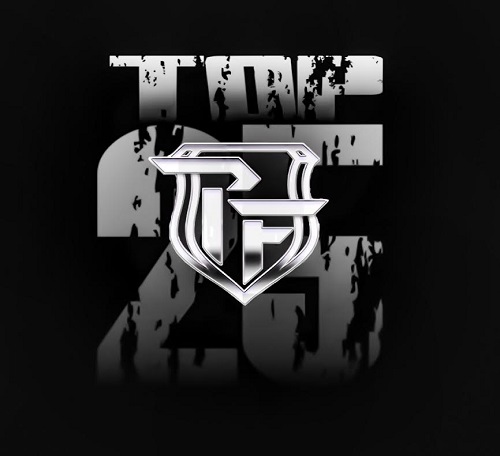 The top 5 has a shakeup this week with St. Frances Academy easily taking down IMG. This pretty much establishes the Panthers as the best team east of the Mississippi. Week 8 was a tough one for some of the middle ranked teams with the previously 11,13 and 14 teams losing. Dematha lost a WCAC battle to Gonzaga. Gonzaga was coming off a loss to Good Counsel who lost this week to St. John's. It's anyone's guess as to how the WCAC ultimately shakes out but for right now St. John's is the top ranked with Good Counsel coming in next. I doubt many rankings will have all four WCAC ranked but we are not convinced there are 25 better teams in the country.
Marietta is another team that took a loss. This time to McEachern who remains undefeated and comes in the rankings at #19 this week. St. Joseph's Regional went down to Don Bosco this week which opens up a spot for undefeated Chandler to enter the rankings. The Wolves have been on a roll winning the last 2 weeks by a combined 98-0.
There is a little game this week that you may have heard about. #1 Mater Dei travels to #2 St. John Bosco in a game that we have all been waiting for. The 2 teams split last year with the Monarchs wining the game that mattered most in the playoffs. The game will decide the Trinity League regular season title but the ultimate game will come when these two teams likely meet in the playoffs. That is the only thing that takes a little luster off this game but don't tell that to the already sold out crowd. There is one other meeting of ranked teams this week and that comes to us from the WCAC where Dematha and Good Counsel square off. Check out who the experts pick in the those games and the other top games of the week on Wednesday by following us on Twitter @PrepForce1 and like us on Facebook PrepForce. Don't agree with our rankings let us know!
| | | |
| --- | --- | --- |
| Rank | School | City, State |
| 1 | Mater Dei | Santa Ana, CA |
| 2 | St John Bosco | Bellflower, CA |
| 3 | Duncanville | Duncanville, TX |
| 4 | St. Frances Academy | Baltimore, MD |
| 5 | IMG Academy | Bradenton, FL |
| 6 | Lakeland | Lakeland, FL |
| 7 | St. Louis | Honolulu, HI |
| 8 | St. Thomas Aquinas | Ft. Lauderdale, FL |
| 9 | Katy | Katy, TX |
| 10 | North Shore | Houston, TX |
| 11 | Lowndes | Lowndes, GA |
| 12 | St. Joseph's Prep | Philadelphia, PA |
| 13 | Bishop Gorman | Las Vegas, NV |
| 14 | St John's College | Washington, DC |
| 15 | De La Salle | Concord, CA |
| 16 | Allen | Allen, TX |
| 17 | Longview | Longview, TX |
| 18 | Southlake Carroll | Southlake, TX |
| 19 | McEachern | Powder Springs, GA |
| 20 | Corner Canyon | Draper, UT |
| 21 | Good Counsel | Olney, MD |
| 22 | Gonzaga | Washington, DC |
| 23 | Dematha | Hyattsville, MD |
| 24 | Mentor | Mentor, OH |
| 25 | Chandler | Chandler, AZ |