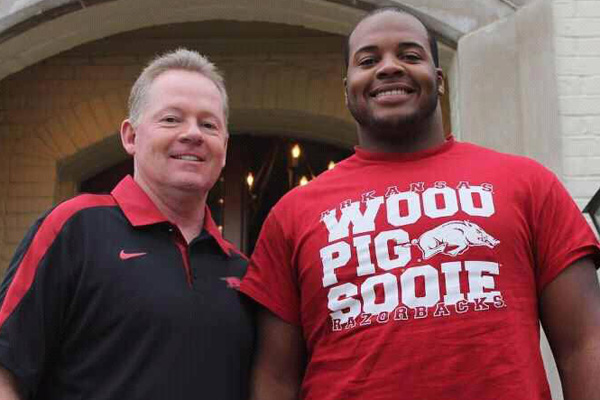 Cordale Boyd is a big strong Offensive Lineman from Ridgeway High School in Memphis, Tennessee. He is committed to the Arkansas Razorbacks and in these days of decommits I will say with 100% certainty that there is no chance he will end anywhere but Fayatteville. He is super excited to start his career as a Razorback if you don't believe just check out his twitter @ARKANSAS_BOYd64 Lets get to know more what Cordale is like when he is not flattening defensive lineman on the football field.
Prep Force: Do you play video games? Which ones? Have you beat any other recruits?
Cordale Boyd: Well i don't play video games a lot, but i did beat Brandon Lewis in madden 12.

PF: What's your favorite food? What food do you eat on gamedays?
CB: I love steak!!! I eat what they feed us on game days, it's ok.
PF: What TV shows do you watch consistently?
CB: I love the show Criminal Minds.
PF: What type of music do you listen to, if any, right before a game?
CB: I must bump Lil Wayne before the game.
PF: What is your favorite sports memory that doesn't involve yourself?
CB: When we were down by a touchdown, my high school QB lunched the ball down the field it was tipped and on of our guys cough it and got the touchdown.
PF: Which pro player best reflects the type of game you have now?
CB: Larry Allen.
PF: Was the recruiting process everything you expected?
CB: If not, what things surprised you most? Yes it was everything and more.
WPS!!!! (Woo Pig Sooie)