Its been a good 7 days for UNLV Rebel fans. First Khem Birch decided he will transfer there next season. Then the polls came out and they are ranked as high as they have been since the early 90's glory days. This is a program that is back on the map thanks to what is shaping up to be a great 2012 recruiting class. With the signing of Birch there are some whispers that fellow Canadian Anthony Bennett could stay in Las Vegas and play at UNLV. There is also hopes that hometown star and #1 ranked player Shabazz Muhammed will stay in Vegas with the help of his current teammate and UNLV pledge Demetris "TooMuchBounce" Morant. The 6'8 top 150 forward is known for his insane leaping ability and his highlight dunks. We interviewed Demetris to find out what he is like when he is not beasting out on the basketball court.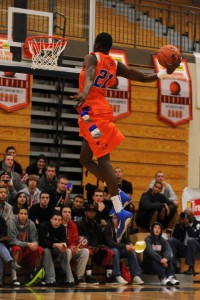 Prep Force: Who is your favorite athlete?
Demetris Morant: Kobe Bryant
PF: Do you play video games? Which ones?
DM: Yes I mostly play Saints Row, NBA 2k, and Madden.
PF: What's your favorite food? What food do you eat on gamedays?
DM: I love mac & cheese. On game days I eat fast food most the time.
PF: What TV shows do you watch consistently?
DM: I watch family guy everyday.
PF: What type of music do you listen to, if any, right before a game?
DM: Before a game I listen to rap music to get me pumped.
PF: Which pro player best reflects the type of game you have now?
DM: I'll have to say Kevin Garnett.
PF: Was the recruiting process everything you expected? If not, what things surprised you most?
DM: It was pretty much everything I expected.
PF: Whats the most annoying part about the recruiting process?
DM: Worrying about if a school is still interested in you or not.
PF: What other sports did you consider before basketball? What made you finally decide upon basketball?
DM: I played football before basketball but I didn't really like it.
PF: What did you look for when deciding which college to attend?
DM: I look at the coaches, style of play, academics, the city, and the school.