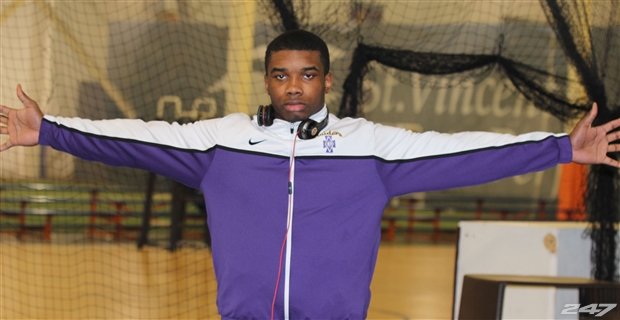 4-star defensive end Jashon Cornell has a very long list of offers, and he is beginning to narrow that list down. I recently caught up with the 8th-ranked defensive end and he named 9 schools that stood out to him as favorites. (This list is not in order)
"Michigan, Iowa, Notre Dame, Penn State, Florida State, UCLA, USC, Stanford, and Ohio State", Cornell said.
Cornell has worked hard to narrow that list down. "I've been doing my research. The big thing about my family is they stress academics."
Many schools are coming after the highly-touted defensive star, and he shared his thoughts about one school in particular, Ohio State. He said he liked "the Ohio State tradition" the most about the Buckeyes.
"Coach Meyer really wants to win every game, and the coaches he hires are great coaches."
He also made it to Michigan last fall, and recalled that experience as a "really good visit."
No matter where he ends up signing, he will stand out immediately. "I think I can make an instant impact. I'm becoming a better player for the future", Cornell said.
Those nine schools should have an answer in the next few months. He gave Prep Force a timeline for his decision. "I think I'm going to sign the first day of my senior year because I'm planning on graduating early."
**Update – Jashon tells us he still has 15 schools on his list those 9 showing him a lot of interest.