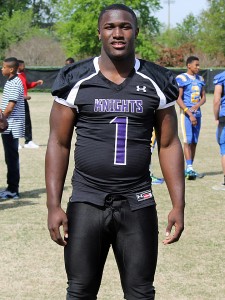 UCLA's Myles Jack surprised the college football world last season, when he totaled 75 tackles as a linebacker and seven rushing touchdowns as a running back. Louisiana native Devin White could be college football's next big star because of his versatility.
The 2016 athlete is being recruited by some teams as a running back, and some as a linebacker, but the message has been the same from coaches. That message is: we want you here not matter what position you play. White said that while most schools like him better at linebacker, they are willing to let him play running back as well.
A player with size and speed is a rare occurrence, but White is the total package. Even at 230 pounds, White still has the speed to break away from defenders. So which teams are getting visits from the 4-star?
This summer he visited Alabama, LSU, Oklahoma State, Nebraska, Ole Miss, TCU, and Texas, with Texas being the most recent. He didn't get to see much at Texas after getting caught in traffic before the camp, but head coach Charlie Strong is very interested in White.
"He (Strong) told me he's going to definitely watch me", White said. He also said Strong gave him good feedback from the camp.
So which schools stood out from those visits? White didn't name any in particular, but said "they all had different things I liked."
LSU is one of the schools thought to be a favorite to land White, and the interest is mutual. He said LSU's fan base, offense, and the relationship with the coaches were some things that stood out about the Tigers.
White intends to take more visits and doesn't seem to be in a hurry to make a decision just yet. One thing is for sure though, this guy is going to be a star at the next level.