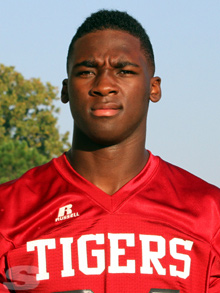 The majority of top athletes in America today are expected to play either baseball, basketball, or football. Some may play soccer growing up, but when it's time to get serious, the focus usually turns to one of the three major sports in this country.
So there wasn't exactly much of a precedent when 4-star football recruit Drake Davis decided to step away from the game this season to focus on soccer. But what would make such a highly-recruited football player want to step away from the game and focus on a sport that isn't as popular in this country?
"It was something I wanted to do for a long time. I grew up watching it, but I never got the chance to actually play. So I wanted to take what could be the last chance I have to play", Davis said.
He has received a lot of support from his family about the decision, and he still hears from the football recruiters. "They still send me letters and give me their support", said Davis.
Davis says that he hopes his decision can help influence younger athletes who want to play soccer to follow through with their dreams, even though it isn't always the popular option. "The world is running out of Ronaldo's and Messi's. It will be awesome to see more players become great."
Playing soccer wasn't just a spur of the moment decision, though. Davis told us back in April that he would be attending a soccer camp, and that he would have to see how that went. He kept working at crafting his skills and trained with some of his teammates and friends who play soccer, something he said has helped him.
Although he is focused on soccer now, he acknowledged that there is still an opportunity for him to play college football. "For now, I'm just focused on doing the best that I can right now in soccer." If he decides to return to football, he has some big-time offers that include Alabama and Florida State.