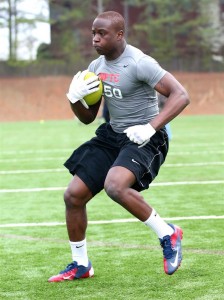 Eric Swinney committed to Ole Miss and has been faithful to the Rebels ever since then, despite having other big-time offers such as Alabama, Auburn, Florida State, and Georgia. His main focus now is winning the state championship his senior season.
He helped lead Sandy Creek to a win in the state championship his sophomore season, but his team lost in the third round of last year's playoffs.
Swinney says that his team has been working hard, and he realizes that getting his commitment done early will cancel any possible distractions surrounding it. For a guy that's going to be a star in the SEC, his focus is still solely on his high school team.
Swinney will join an Ole Miss team that has been hot on the recruiting trail the past few seasons, and he realizes the Rebels are close to competing in the SEC. "It's just going to take one more (recruiting) class," Swinney said.
He thinks the recruiting success will start to show this year, as those big-time prospects enter their sophomore and junior seasons. Ole Miss knew Swinney was their No.1 guy, and the Rebels were true to their word. Swinney is the only running back they have committed at this point.
Even though Swinney has been recruited by other SEC teams, and was even in attendance for the Alabama-Auburn game, his commitment is still strong.
His goals for his freshman year at Ole Miss are to learn everything he can and take it all in.


Follow us @PrepForce1 to stay on top of the latest recruiting news and videos