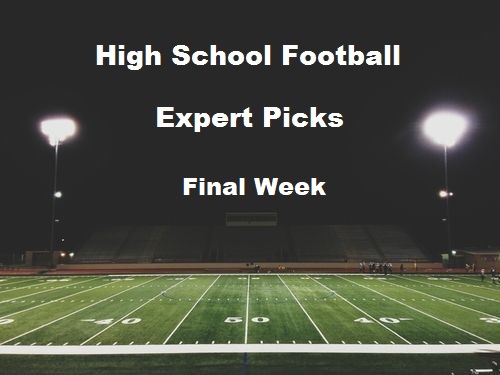 Unfortunately the end of the season is here so this is the last week of the Pick'Em. This week we only have 8 games but we have decided to make the Geico Bowl games worth 2 points each. The experts are split 2 and 2 on both games. We expect both games to be close and with teams coming off a couple of weeks layoff it hard to know what to expect. This will be a good test for St. Frances Academy. The Panthers are ranked highly but didn't have that tough of a schedule. Their best game was to be against IMG but it was cancelled due to Hurricane Irma. Bingham on the other hand rolled to another Utah state championship. The other game should is a battle between a prolific offense and a stout defense. The Chandler Wolves have been hard to stop on offense as long as QB Jacob Conover has been healthy. The least they scored in the playoffs was 49 and they put up 77 in the second round. The most the Bulls gave up in the playoffs was 18. Both teams played IMG this year. Chandler lost 27-14 and Northwestern lost 21-0 in a game they played without their head coach. Chandler does have the home field advantage with the game being played in Arizona. The other 6 games are all Texas state title games. Last week we all agreed on the 5 Texas games and true to season form 3 of those teams lost. This week we agree on 4 of the 6 so Allen, Midway, Aledo and Carthage are all on upset alert.
Bein this is the last Pick'Em column of the year we want to thank everyone who has come back each week. We have received so great dialogue about our picks. We want to especially think the 3 other experts that participated this year. We will continue this next year and hopefully they will all come back. Make sure to go follow them all as they are great at what they do, Jeff Fisher from HighSchoolFootballAmerica.com, Zack Poff from MaxPreps.com and Joshua Wilson from FloridaHSFootball.com.
Follow us at @PrepForce1 for all your recruiting info and for our world famous player highlights. Check out our Final Top 25 High School Football Rankings coming out after the games this weekend.
Happy Holidays to all the high school football players and fans out there!
| | | | | |
| --- | --- | --- | --- | --- |
| | Scott Kay | Zack Poff | Jeff Fisher | Joshua Wilson |
| | @PrepForce1 | @MaxPreps | @JeffFisherMedia | @FlaHSFootball |
| St. Frances Academy vs. Bingham | SFA | Bingham | SFA | Bingham |
| Miami Northwestern vs. Chandler | Northwestern | Chandler | Chandler | Northwestern |
| Allen vs. Lake Travis | Allen | Allen | Allen | Allen |
| Midway vs. Cy-Fair | Midway | Midway | Midway | Midway |
| Manvel vs. Highland Park | Manvel | Manvel | Highland Park | Manvel |
| Aledo vs. College Station | Aledo | Aledo | Aledo | Aledo |
| Carthage vs. Kennedale | Carthage | Carthage | Carthage | Carthage |
| Pleasant Grove vs. West Orange-Stark | Pleasent Grove | WOS | WOS | Pleasant Grove |
| Season Record | 117-51 | 112-56 | 108-60 | 110-58 |