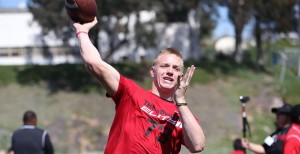 K.J. Costello, one of the highest-regarded quarterbacks in the upcoming recruiting cycle, committed to play for David Shaw at Stanford in March. Shaw and company are getting an extremely talented quarterback, and they were one of the schools in position to land him because they recruited him early in the process.
Costello attended a camp at Stanford at the end of his freshman year and says that the early conversations with those coaches were some of his first experiences with getting recruited to play college football. "I have been pretty fortunate that the process started early in my sophomore year", Costello said.
Many of the top programs in the nation were after Costello, so he definitely had his choices. "It was getting pretty crazy there for a while," Costello said. He recalled that at certain points throughout the process he could remember being ready to go to Michigan and Southern Cal, but ultimately Stanford was where he was most ready to go. "At the end of the day it was the best decision for me."
The academic side was one of the things that stood out to him. "I know football comes to an end eventually," Costello stated. The academics likely played a role in his decision, but he was quick to remind me that Stanford is an all-around school, citing the recent Rose Bowl appearances.
The quarterback situation at Stanford sets up nicely for Costello. Kevin Hogan, the current quarterback for the Cardinal, is a rising senior, so the opportunity to play early is a reality. Stanford did not take a quarterback in the 2015 cycle, a move that was made in hopes of landing Costello. "They told me they wanted to leave that spot open for me", he said.
With his recent commitment, things have naturally slowed down a little when it comes to how hard teams are recruiting him. "I think they know I'm firm with my commitment." The Cardinal are getting an excellent quarterback recruit for 2016, and this guy has a realistic chance to come in and win the starting job early in his college career.