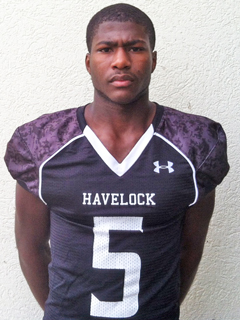 If you haven't begun to look at 2016 prospects yet, Keion Joyner should be one of the first athletes you watch. The linebacker is one of the most athletic players in the country and will be ranked very high in the 2016 recruiting rankings. Prep Force caught up with him recently to see where he's at in his recruiting process.
Q: How has the recruiting process been for you so far?
A: "It's been going well, just taking it slow."
Q: What's it like finding out you're one of the top-ranked players on Scout.com's 2016 recruiting rankings? Does it put more pressure on you or motivate you to move higher?
A: "It motivates me. It's a great honor, but I don't pay too much attention to that stuff."
Q: Which schools stand out to you the most, even though it's still early in the process?
A: "LSU, Auburn, and Alabama"
Q: What do you like the most about those schools?
A: "They always make it in the BCS, and they put a lot of players into the NFL."
Q: Is playing in a certain area or conference a big factor to you when making a decision?
A: "Yeah I would like to go to the SEC."
Q: Which visit has stood out to you the most so far and which visit do you look forward to that you haven't took yet?
A: "LSU and Auburn stood out to me. I haven't went to Alabama yet, but I'm going to try to make a pit stop there."
Follow us @PrepForce1 to stay on top of the latest recruiting news and videos