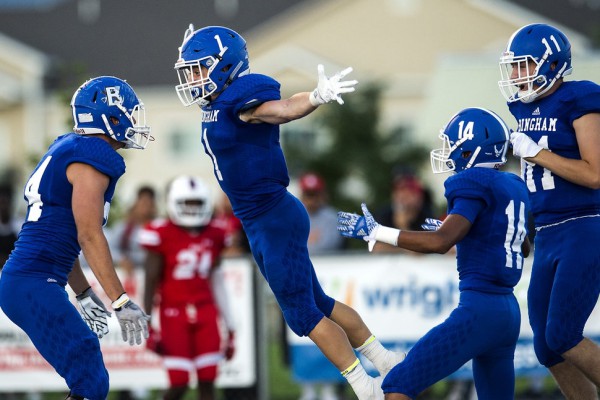 Image from sltrib.com
Week 1 of the high school football season is in the books and what a week it was. #1 St. Thomas Aquinas stays on top after their 9-3 OT win over #5 St. John Bosco. As we expected it was a defensive battle. For STA to stay on top their offense will have to get better throughout the year. We expect that to happen as QB Curt Casteel gets more comfortable and doesn't have to play against one of the best defenses in the country. We already had St. John Bosco and see no reason to drop them after the loss. Their defense was missing a couple of players. QB Re-al Mitchell will have more success against teams that don't have the speed and athletes that STA has.
In other big games from last weekend #4 Bishop Gorman got off to a slow start but their class eventually took over in the second half over #12 Dematha. We were very high on Dorian Thompson-Robinson going into the season and he showed America why in this game. Dematha moves up 2 spots from last week of the good showing. The Stags traveled cross country and were competitive for 3 quarters. There aren't many teams in the country that would have beat them Friday night. #3 IMG also had a good win over #12 Chandler. Chandler only drops a spot because we haven't see an update on QB Jacob Conover. The Wolves have 2 big games coming up and they will need him healthy to win. #7 Grayson drops a spot this week after the win over Hoover. It was a great win for the Rams but we expected a more dominant performance.
We have 4 new teams in the rankings this week. #15 Bingham had one of the most impressive wins of the weekend in their 48-17 win over previously ranked East. The Miners showed that despite all the talk from last year they are still the team to beat in Utah. #21 Trinity got a 42-41 win in the game of the weekend at Warren Central. #24 Miami Central makes their debut after an impressive 48-24 win over a good Chaminade-Madonna team. The final new team in the rankings is #25 Pickerington Central. The Tigers scored a 24-21 victory over previously ranked Cass Tech.
There is a another good slate of games this weekend. Check out who the experts pick in the week Pickem Contest later this week. Also follow us on Twitter @PrepForce1 and like us on Facebook PrepForce to keep up with our weekly rankings and predictions as well as our world famous highlights once the season starts.
| | | |
| --- | --- | --- |
| Rank | School | City, State |
| 1 | St. Thomas Aquinas | Ft. Lauderdale, FL |
| 2 | Mater Dei | Santa Ana, CA |
| 3 | IMG Academy | Bradenton, FL |
| 4 | Bishop Gorman | Las Vegas, NV |
| 5 | St John Bosco | Bellfower, CA |
| 6 | Centennial | Corona, CA |
| 7 | Grayson | Loganville, GA |
| 8 | American Heritage | Plantation, FL |
| 9 | Allen | Allen, TX |
| 10 | Desoto | Desoto, TX |
| 11 | Dematha | Hyattsville, MD |
| 12 | Chandler | Chandler, AZ |
| 13 | Bergen Catholic | Oradell, NJ |
| 14 | De La Salle | Concord, CA |
| 15 | Bingham | Jordan, UT |
| 16 | St. Joseph Regional | Montvale, NJ |
| 17 | St. Xavier | Cincinnati, OH |
| 18 | Hoover | Hoover, AL |
| 19 | Brentwood Academy | Brentwood, TN |
| 20 | Katy | Katy, TX |
| 21 | Trinity | Louisville, KY |
| 22 | South Pointe | Rock Hill, SC |
| 23 | St. Frances Academy | Baltimore, MD |
| 24 | Miami Central | Miami, FL |
| 25 | Pickerington Central | Pickerington, OH |