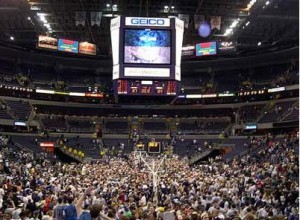 This was supposed to be the week the NBA tip'd off. It will instead be known as the week that NBA owners and NBA players couldn't reach any CBA agreement and thereby left a gaping hole in what's usually known by many sport's enthusiast as the time when sports aligns with the cosmos and crosses seasons. NBA tip off and preseason hype, NFL is in full swing (we are usually at the 'will team X be undefeated' placeholder), College Football has rattled off a few select superpowers and a potential Cinderella, the World Series is playing closure's soothing violin without the feeling of any fat lady, College Basketball rankings are a-go and Midnight Madness lives strong in our hearts, and the Surfing ASP is usually near being settled (ok, ok, I went there, but come on, Kelly Slater got his 11th this week!). So to say that a lack of one of these factors suggest a "gaping hole" of space in our sporting hearts would seem to be a near fallacy of sorts.
Alleged infighting amongst players, as well as fresh images of Derek Fisher's anxiety-laden and sometimes seemingly defeated posture as he leaves meeting in NYC are beginning to propose serious doubts as to whether an NBA season will actually happen. What are the odds and what are the potential scenarios? Glad you asked. The website Bodog.com has placed 5:4 odds on the entire NBA season now being totally cancelled. So they're saying there's a chance? Yeah, they are saying there's a chance. So this begs the question, what will people do to fill this gap? Saying there isn't a gap is a critical mistake. For the first November in some time, my Tuesday night had no Lakers. No Heat. No Thunder. It instead was filled with that new movie, Tree of Life, staring Brad Pitt. The movie is about, in some ways, the beginning and the end of life. That's dramatic. Probably more dramatic than the NBA season's potential cancellation, however, its still drama. To figure out what might be the rest of 2011 and a good bit of 2012, we can stay inline with Vegas. Casinos do about 15% of their business with the NBA lines. With that gone, its expected that a healthy portion of that will be replaced with College Basketball. And if that's the case, one would be inclined to expect expanded opportunities there.
What does this tell us? Basketball fans are basketball fans and those ardent NBA fans that rarely watch College Basketball, they are too busy collecting soccer cards, will likely move over to fill the void. And, it says, marketing is likely to travel the same path to fill its own gap, and we know where that leads….more College Basketball fans. Its not just fans filling the void, its Vegas and marketing and TV and you name it.
College Basketball hasn't had the kind of potential it has this year and a great many years. Aside from the NBA's collapsing all over Derek Fisher's suits, it also has an incredible top 10 stockpile of talent like none seen since the inception of the one-in-done implementation. North Carolina, the preseason #1 and favorite to take down the nets in March, is loaded and offers fans an viable NBA replacement. The team returns 2010 rookie sensation Harrison Barnes, not too mention an outstanding recruiting class and legendary coach. Its Tobacco Road rivals, Duke, will also be in the mix of things as College Basketball's version of an NBA coach, Mike Krzyzewski, looks to break the all-time record for wins which is currently held by Bob Knight. He will likely do that in November and he'll do so with returning Jr. Guard Seth Curry, Forward and only senior, Miles Plumlee, and recruiting sensation and son of Doc Rivers, Austin Rivers. This is a team to watch and combined with North Carolina's loaded guns, will make the ACC battle and that infamous Tobacco Road rival game something to replace some of those NBA games.
A potential standout division which could be most impacted would have to be the Big East, which features 6 teams in the preseason top 25. This division is loaded with high profile recruits and a flair for highly athletic play. The ACC could serve itself well with an NBA lockout, considering the division's precarious position with the Big East in shambles. Garnering attention from recruits is tough as is, but having your mainstay football programs vacating the premises worsens scenarios. The Big East is now down to 6 football teams, so with an NBA lockout shifting attention to college basketball, in this scenario, it could save the Big East as we know it. That's right, the NBA lockout is now a philanthropic good Samaritan saving the fragile Big East. If the NBA lockout drives enough eyeballs to NCAA basketball, and much of that is filtered to the Big East, then that's more TV revenue potential and a hopeful outlook for a division that would otherwise be in dire straights. The East Coast is an apex for Television markets, markets with loads of NBA fans that will be looking to assuage their own hoop's fix. And of course, there is DePaul, in Chicago, which is a large sports market.
The NBA may be all doom and gloom, but basketball is anything but that. This might be the year you turn around and thank the NBA for this, for this might be one of those years in College Basketball that you wouldn't want to say you missed.