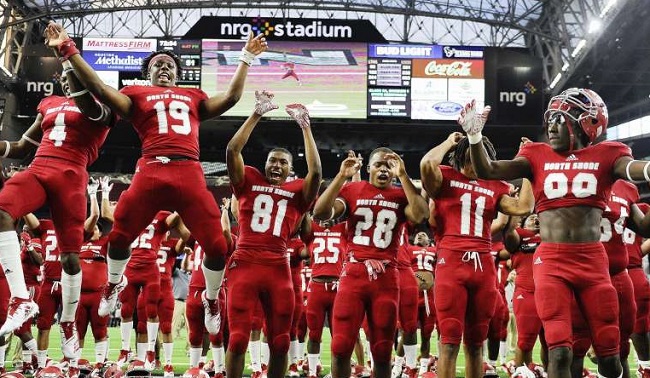 The season is over and it ended with one of the best state title games ever played. A Hail Mary gave North Shore a win over Duncanville in a game that was a classic even before the final play. Both of those teams are incredible and it's a shame one had to lose. The win gives the undefeated Mustangs the National Title. If you followed the rankings all year you will know that while most of the other polls had Allen as the top team in Texas a few weeks ago we decided to move North Shore above them and into our Top 5. The second time they beat Katy really solidified it for us. As we saw this year it was very hard to beat a really good team twice and the Mustangs did that. They also destroyed Lake Travis in the semifinals and destroyed West Brook in in the middle of the season which looks like a very impressive win after the UIL 6A D2 title game. We are sure some of the other polls will give the title to Mater Dei. Honestly there is definitely an debate to be had and the Monarchs are very worthy.
There was one new team in the final poll and that spot goes to Oaks Christian. The Lions early season win over Eastside Catholic looks much more impressive after the Crusaders convincing win in their Geico game. From taking a look at other polls the biggest difference in ours will likely be our ranking of Miami Central, Carol City and St. John's College. We consider those teams in the same ballpark based son the games they played against each other this year. Central and Carol City split and Central and St. John's played to a virtual 5 overtime draw. To as that is about as close as it gets. Central and carol City were the two best teams in Florida that we saw and St. John's College had a number of impressive out of state wins. The same basic thing is true about Mater Dei, St. John Bosco and IMG with the split and the really close game where the road team barely lost. We have agreed to do a Q & A over on PrepGridiron.com about our rankings. There will be a tweet announcing when that will be. If you have any questions feel free to head over and ask them. We appreciate everyone following along with the rankings this year. We are sad the season is over but only 8 months until we are back at it again.
Follow us on Twitter @PrepForce1 and like us on Facebook PrepForce to keep up with our weekly rankings and predictions as well as our world famous highlights.

| Rank | School | City, State |
| --- | --- | --- |
| 1 | North Shore | Houston, TX |
| 2 | Mater Dei | Santa Ana, CA |
| 3 | St John Bosco | Bellfower, CA |
| 4 | IMG Academy | Bradenton, FL |
| 5 | Duncanville | Duncaville, TX |
| 6 | Miami Central | Miami, FL |
| 7 | Carol City | Miami, FL |
| 8 | St John's College | Washington, DC |
| 9 | Lakeland | Lakeland, FL |
| 10 | St. Frances Academy | Baltimore, MD |
| 11 | De La Salle | Concord, CA |
| 12 | St. Louis | Honolulu, HI |
| 13 | Centennial | Corona, CA |
| 14 | Allen | Allen, TX |
| 15 | St. Thomas Aquinas | Ft. Lauderdale, FL |
| 16 | Milton | Milton, GA |
| 17 | Colquitt County | Moultrie, GA |
| 18 | University Lab | Baton Rouge, LA |
| 19 | Oaks Christian | Westlake Village, CA |
| 20 | Gonzaga | Washington, DC |
| 21 | Dematha | Hyattsville, MD |
| 22 | St. Joseph's Prep | Philadephia, PA |
| 23 | Warren Central | Indianapolis, IN |
| 24 | Archbishop Hoban | Akron, OH |
| 25 | Christian Brothers | St. Louis, MO |
| | | |