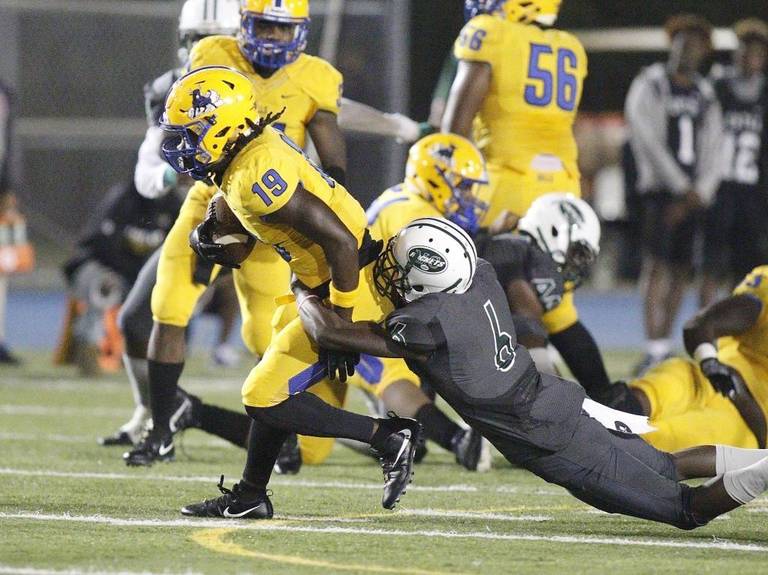 Image from MiamiHerald.com
Another week is in the books and 2 Top 25 teams lost this week. Miami Northwestern took down previous #3 Miami Central 21-7 to stake their claim as the Kings of Miami for now. We say for now as we believe there will be a rematch in the future. The win vaults the Bulls into the rankings at #7 this week. Their only loss on the season is to #2 IMG in a game they played without their coach. St. Ignatius beat previous #13 St. Xavier to shake things up in Ohio. At least for this week there will not be a team form Ohio in the Top 25. It's not that we don't believe there that a team from Ohio isn't one of the best Top25 in the country, we just don't know which one. Things will clear up this week when St. Ignatius faces off against undefeated St. Edward in the Holy War.
The Holy War highlights this weeks top games but there are some others that could shake up the rankings. Miami Central will need to bounce back as they have a very good Carol City team on the schedule this week. We also have a battle of top unbeaten Texas teams when Duncanville travels to take on #17 Desoto. Check out who the experts pick in that big showdown plus the other Top 10 games of the week in the Pickem Contest later this week.
Please follow us on Twitter @PrepForce1 and like us on Facebook PrepForce to keep up with our weekly rankings and predictions as well as our world famous highlights. We have started releasing some early season highlights so go watch them.
| | | |
| --- | --- | --- |
| Rank | School | City, State |
| 1 | Mater Dei | Santa Ana, CA |
| 2 | IMG Academy | Bradenton, FL |
| 3 | American Heritage | Plantation, FL |
| 4 | Centennial | Corona, CA |
| 5 | Allen | Allen, TX |
| 6 | St. Frances Academy | Baltimore, MD |
| 7 | Miami Northwestern | Miami, FL |
| 8 | Miami Central | Miami, FL |
| 9 | Ben Davis | Indianaplois, IN |
| 10 | St John Bosco | Bellfower, CA |
| 11 | Bishop Gorman | Las Vegas, NV |
| 12 | Bingham | Jordan, UT |
| 13 | St. Joseph's Prep | Philadelphia, PA |
| 14 | Centennial | Peoria, AZ |
| 15 | St. Thomas Aquinas | Ft. Lauderdale, FL |
| 16 | Katy | Katy, TX |
| 17 | Desoto | Desoto, TX |
| 18 | Mission Viejo | Mission Viejo, CA |
| 19 | South Pointe | Rock Hill, SC |
| 20 | De La Salle | Concord, CA |
| 21 | St John's College | Washington, DC |
| 22 | Judson | Converse, TX |
| 23 | Trinity | Louisville, KY |
| 24 | Pine-Richland | Gibsonia, PA |
| 25 | Archer | Lawrenceville, GA |