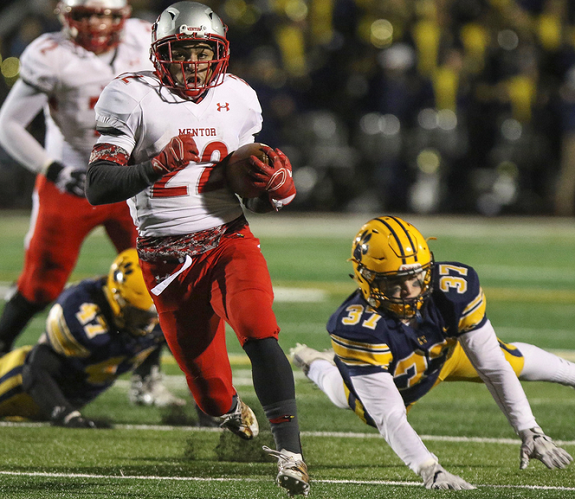 We finally get a lot of shakeup in the rankings this week thanks to the playoffs in Georgia, Ohio and Florida heating up. Georgia was the big loser in the rankings this week with 2 teams falling out. That leaves Archer as the only team ranked and probably the only team that has a chance to finish the season ranked assuming they win the 7A title. Georgia has some depth of good teams this year but is lacking any great teams. Lowndes and Grayson both end the season with disappointment after having high hopes.
Ohio has been tough to figure out all year and these playoffs are showing why. We mentioned a few weeks back that an Ohio team is on of the best 25 in the country we just weren't sure which one it was. This week Mentor is that team after their win over St. Ignatius, which was their only loss of the season. The Cardinals have been featured the last two weeks in our expert picks and were not picked to win by anyone. We can't speak for the others but we learned our lesson. Florida was responsible for the other ranked team losing this week as Miami Central fell to Miami Northwestern. Northwestern won the game earlier this season as well. The Bulls jump up to #8 this week but can't afford a letdown this week against a good Carol City team.
This week's lineup of games is one of the best this season. The Final 4 in California Southern Section provides two great games with #4 Centennial and #8 St. John Bosco squaring off in one game and #1 Mater Dei taking on #15 Mission Viejo in the other. We are also looking forward to a Texas math-up between Judson and Lake Travis. We haven't had many Texas games so far in the pick'em yet this year. It has also been hard to rank the Texas teams due to lack of big in state or out of state games. We will start getting clarity soon.
Check out who the experts pick in that big showdown plus the other Top 10 games of the week in the Pickem Contest later this week. Also follow us on Twitter @PrepForce1 and like us on Facebook PrepForce to keep up with our weekly rankings and predictions as well as our world famous highlights. We have started releasing some early season highlights so go watch them.
| | | |
| --- | --- | --- |
| Rank | School | City, State |
| 1 | Mater Dei | Santa Ana, CA |
| 2 | IMG Academy | Bradenton, FL |
| 3 | American Heritage | Plantation, FL |
| 4 | Centennial | Corona, CA |
| 5 | Allen | Allen, TX |
| 6 | St. Frances Academy | Baltimore, MD |
| 7 | Ben Davis | Indianaplois, IN |
| 8 | St John Bosco | Bellfower, CA |
| 9 | Miami Northwestern | Miami, FL |
| 10 | Bingham | Jordan, UT |
| 11 | St. Joseph's Prep | Philadelphia, PA |
| 12 | Katy | Katy, TX |
| 13 | Miami Central | Miami, FL |
| 14 | Bishop Gorman | Las Vegas, NV |
| 15 | Mission Viejo | Mission Viejo, CA |
| 16 | South Pointe | Rock Hill, SC |
| 17 | De La Salle | Concord, CA |
| 18 | St John's College | Washington, DC |
| 19 | Trinity | Louisville, KY |
| 20 | Pine-Richland | Gibsonia, PA |
| 21 | Archer | Lawrenceville, GA |
| 22 | Westlake | Austin, TX |
| 23 | Mentor | Mentor, OH |
| 24 | Brentwood Academy | Brentwood, TN |
| 25 | Union | Tulsa, OK |