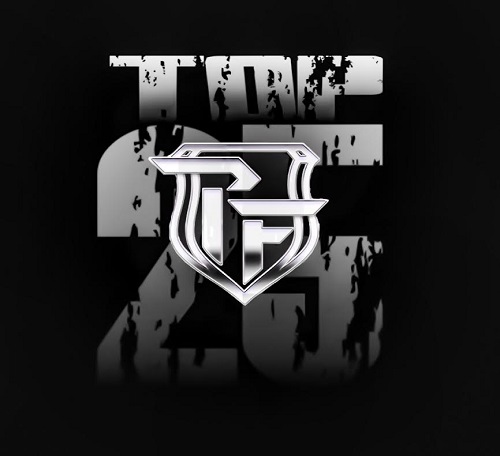 The season is coming to an end and that means more good teams playing each other which results in more Top 25 losses. This week four teams from last weeks rankings lost. One of those of course was in the game of the week between Mater Dei and St. John Bosco. The Monarchs easily won the game and now only #16 De la Salle stands in their way of the national title. The 49-24 win by the Mater Dei was the best game they have played all year. They dominated a game which we thought would be a single digit win. The loss only drops the Braves a couple of spots. It gets very hard to rank teams this time of year. That is even harder because of Centennial not having Tanner McKee for their showdown last week with the Braves. We have to give the Braves credit for the win so it was hard to drop them too far.
In a game we really looked forward too new #22 Owasso took down previous #22 to bring home the Oklahoma 6A-I state title. The game wasn't as high scoring as we thought it would be, but we were pretty confident the Rams would get the win which is why we picked them in the weekly pick'em. Coach Blakenship gets the win over his former team and Josh Proctor is special. Even though Owasso didn't play any out of state games they beat a Union team that did. Without Union's dominating victory over Euless Trinity this would've been a harder team to rank but we feel confident they are one of the best 25 in the country.
The new #23 team in the country comes to us from Ohio, but its the Division III champ. Trotwood-Madison get the spot thanks to their win earlier this season over Division I champion Pickerington Central. Pickerington Central was our first team out this week and there is definitely a chance they end up the season ranked. Even though their playoff run was more impressive we cannot ignore the head to head matchup from earlier this year. The final new team this week is #21 Armwood. The Hawks got an impressive win over a very good St. Augustine team. They also get a chance to shoot up the rankings this week when they take on #7 Miami Northwestern in the Florida 6A Championship.
The Armwood-Northwestern will definitely be one of our weekly pick'em top 10 games of the week. Along with #1 Mater Dei vs #16 De La Salle. #11 St. Joseph's Prep takes on #19 Pine Richland as well. Check out who the experts pick in the other Top 10 games of the week in the Pickem Contest later this week. Also follow us on Twitter @PrepForce1 and like us on Facebook PrepForce to keep up with our weekly rankings and predictions as well as our world famous highlights. We have started releasing some early season highlights so go watch them.
| | | |
| --- | --- | --- |
| Rank | School | City, State |
| 1 | Mater Dei | Santa Ana, CA |
| 2 | IMG Academy | Bradenton, FL |
| 3 | American Heritage | Plantation, FL |
| 4 | Allen | Allen, TX |
| 5 | St. Frances Academy | Baltimore, MD |
| 6 | Ben Davis | Indianaplois, IN |
| 7 | Miami Northwestern | Miami, FL |
| 8 | St John Bosco | Bellfower, CA |
| 9 | Centennial | Corona, CA |
| 10 | Bingham | Jordan, UT |
| 11 | St. Joseph's Prep | Philadelphia, PA |
| 12 | Katy | Katy, TX |
| 13 | Miami Central | Miami, FL |
| 14 | Bishop Gorman | Las Vegas, NV |
| 15 | South Pointe | Rock Hill, SC |
| 16 | De La Salle | Concord, CA |
| 17 | St John's College | Washington, DC |
| 18 | Trinity | Louisville, KY |
| 19 | Pine-Richland | Gibsonia, PA |
| 20 | Westlake | Austin, TX |
| 21 | Armwood | Seffner, FL |
| 22 | Owasso | Owasso, OK |
| 23 | Trotwood-Madison | Trotwood, OH |
| 24 | Brentwood Academy | Brentwood, TN |
| 25 | Cathedral Prep | Erie, PA |