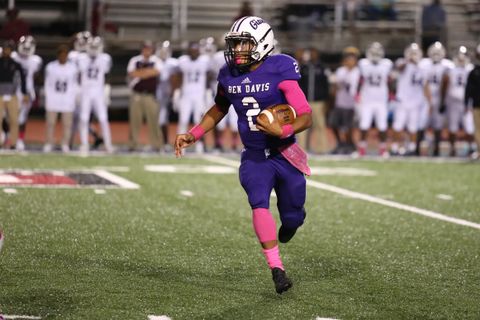 Image from VictoryViews.com
Week 7 is in the books and while there was only 1 ranked team that lost there is some movement in the rankings this week. The big mover is Ben Davis (IN) who shoots up the rankings to #11 after another impressive win over a top Indiana team. They have now played and beat the top 4 teams in Indiana by a combined score of 155-40. As we said on Twitter they may be one of the best teams the state of Indiana has ever seen. Another midwest teams jumps in the top 15 as well as St. Xavier (OH) moves up to #15 after blasting rival LaSalle 42-7.
Dematha lost to rival Gonzaga which drops the Stags from the rankings. Judson (TX) reenters the rankings as a result. We still don't have a good read on the texas teams as not a lot of the top teams have played each other yet. Not many have played out of state opponents either so while we think Allen is the best team in the state the 2nd best could easily be Katy, Desoto or Judson.
We have a couple of great games this weekend highlighted by a Trinity League showdown between #1 Mater Dei and #6 St. John Bosco. We are very interested to see this game now that Bosco is using stud QB D.J. Uiagalele in a combo with Re-Al Mitchell. Mater Dei coach Bruce Rollinson will have his work cut out for him this week preparing for both QB's but if the Monarchs want to keep their national title hopes alive they need to come away with a win this weekend.
Check out who the experts pick in that big showdown plus the other Top 10 games of the week in the Pickem Contest later this week. Also follow us on Twitter @PrepForce1 and like us on Facebook PrepForce to keep up with our weekly rankings and predictions as well as our world famous highlights. We have started releasing some early season highlights so go watch them.
| | | |
| --- | --- | --- |
| Rank | School | City, State |
| 1 | Mater Dei | Santa Ana, CA |
| 2 | IMG Academy | Bradenton, FL |
| 3 | Miami Central | Miami, FL |
| 4 | Centennial | Corona, CA |
| 5 | American Heritage | Plantation, FL |
| 6 | St John Bosco | Bellfower, CA |
| 7 | Allen | Allen, TX |
| 8 | Grayson | Loganville, GA |
| 9 | St. Frances Academy | Baltimore, MD |
| 10 | Bishop Gorman | Las Vegas, NV |
| 11 | Ben Davis | Indianaplois, IN |
| 12 | Centennial | Peoria, AZ |
| 13 | Bingham | Jordan, UT |
| 14 | St. Joseph's Prep | Philadelphia, PA |
| 15 | St. Xavier | Cincinnati, OH |
| 16 | St. Thomas Aquinas | Ft. Lauderdale, FL |
| 17 | Katy | Katy, TX |
| 18 | Desoto | Desoto, TX |
| 19 | Mission Viejo | Mission Viejo, CA |
| 20 | South Pointe | Rock Hill, SC |
| 21 | De La Salle | Concord, CA |
| 22 | St John's College | Washington, DC |
| 23 | Judson | Converse, TX |
| 24 | Trinity | Louisville, KY |
| 25 | Lowndes | Valdosta, GA |