The 2012 high school football season is unfortunately over but that means it is time to crown a champion. It was a tough year and any one of four teams could have won the title. Thanks to their domination of every team they played John Curtis is the Prep Force National Champion. Katy, Norcross and De La Salle made impressive runs to undefeated seasons and state titles but in the end they came up a little short. Once again Florida, Texas and California lead the way with the most teams in the final rankings. Florida had the most with five while Texas and California each had three. The only other state with more than one was Louisiana. Once again congrats to the Patriots and let the countdown start til next year's kickoff.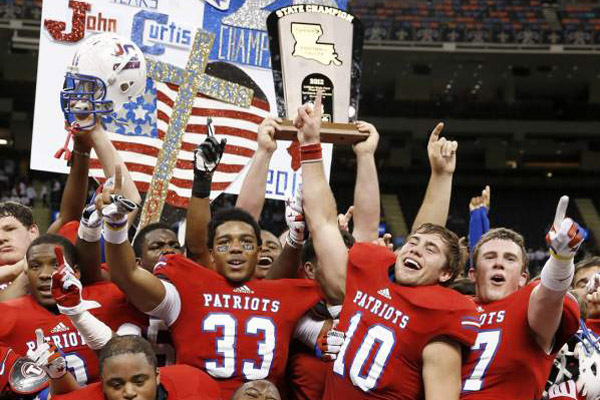 Photo from TheAdvocate.com
1) John Curtis (14-0) River Ridge, LA – Won Louisiana 2A state title. Dominated everyone they played this year. The closest game was a 19 point win to open the year. Finished the season outscoring their opponents 677-60.
2) Katy (16-0) Katy, TX – Won Texas 5A Dvision 2 playoffs.
3) Norcross (15-0) Norcross, GA – Won the Georgia 6A title behind the running of Alvin Kamara. Georgia 6A was right up there with Texas 5A as the toughest division in the country and they finish undefeated and on top. We were high on this team all year and their top 3 finish is much deserved.
4) De La Salle (14-0) Concord, CA – Won CIF Open Division State Title.
5) Bellevue (14-0) Bellevue, WA – Won the 3A Washington title. After the opening game with Trinity (Euless, TX) they were never really tested.
6) University (12-0) Ft. Lauderdale, FL – Won the Florida 3A state championship. Finsish the season as the #1 team in florida thanks to their undefeated season.
7) Allen (14-1) Allen, TX – Won 5A Division 1 title. Had the most impressive title run of any team in the nation.
8 ) Hoover (15-0) Birmingham, AL – Defeated Opelika 31-0. Won the Alabama 6A title.
9) Butler (15-0) Matthews, NC – Won North Carolina 4AA title.
10) Ensworth (13-0) Nashville, TN – Idle – Won the Tennessee Division 2 AA title.
11) North Allegheny (15-0) Wexford, PA – Won the Pennsylvania 4A title.
12) Desoto (14-1) Desoto, TX – The first team in the rankings that did not win a title. Played the toughest schedule in the country.
13) Central (12-2) Miami, FL – Won the Florida 6A title.
14) Centennial(14-2) Corona, CA – Bookend season losses to St. Bonaventure and De La Salle can't take away from their impressive playoff run.
15) Narbonne (14-1) Harbor City,CA – If Troy Williams would have stayed healthy I am not sure this team would have lost this year.
16) Our Lady of Good Counsel (11-1) Olney, MD – Won the WCAC title.
17) Bishop Gorman (13-1) Las Vegas, NV – Won the Nevada Division 1 title.
18) St. Thomas Aquinas (13-2) Ft. Lauderdale, FL – Won the Florida 7A state title. This team peaked late after two early season losses.
19) Manatee (13-1) Bradenton, FL – A review of the schedule showed that their big wins came at home but they were still a top 20 team.
20) Washington (15-0) Miami, FL – Won the Florida 4A state championship. Their only loss of the season came at the hands of #13 Miami Central.
21) Archbishop Moeller (12-3) Cincinnati, OH – Won the Ohio Division 1 title. Even with 3 losses they make the rankings for the impressive run to the title.
22) Edna Karr (14-0) New Orleans, LA – Won the Louisiana 4A state title.
23) Trinity (12-1) Louisville, KY – Won the Kentucky 6A title.
24) Jordan (12-1) Sandy, UT – Won the Utah 5A title
25) Whitehaven (14-1) Memphis, TN – Won the Tennessee 6A state championship.
Don't agree with the rankings? Think your school should be ranked? Let us know about them in the comments section below!
Fans JOIN NOW to keep track of your favorite players and their latest updates
Follow Us on Twitter @PrepForce1
Become a fan on Facebook HERE
To check out more Video of some of the best HS football athletes in the country click HERE