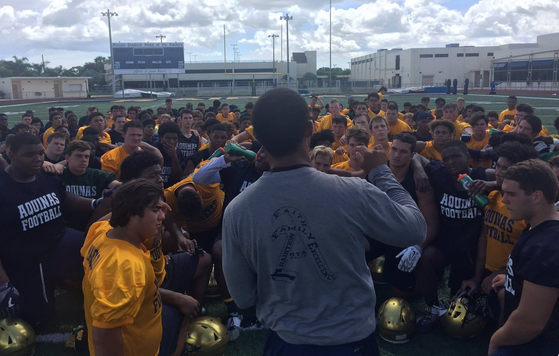 High school football season is a couple of weeks away and we are getting excited. As we have said through the years we aren't the biggest fans of preseason polls but the fans demand it so we put it out. This will be an interesting year as we essentially have national title contender elimination games in the first couple of week. The amount of quality out of state games thanks to ESPN has really changed the landscape of high school football. These games take out a lot of the fun end of season debate as to who is the #1 team in the country. That being said the games are decided on the firld and not on social media and that is a good thing.
There are a handful of games that will decide the national champ this year. At least two of our top 5 will have losses by the time September 10th rolls around. 4 of our preseason top 5 will play in a make shift round robin tournament throughout the year. This scheduling will make it very hard for someone outside our preseason top 5 to win the national title. There are a couple of teams that could pull it off thanks to the national schedule that IMG plays but that list is limited to East and Centennial. If either of those teams go undefeated and deliver IMG their only loss they would be in the conversation assuming none of the other top 5 go undefeated.
When doing these preseason rankings we focused on how we think the first couple of weeks will play out to figure out our top 5. The St. John Bosco at St. Thomas Aquinas and Bishop Gorman at Mater Dei games being the obvious keys to this. Most of the other national polls have one the of the two California teams at #1. If either Mater Dei or St. John Bosco goes undefeated they will be the national champ. We just don't think that will happen. We think there is a better chance that they both have a loss by September 10th than both being undefeated.
We will have a more thorough breakdown on the games in our weekly predictions column as those games get closer. As for now these is how we see them playing out. We've got Aquinas over Bosco and Mater Dei over Bishop Gorman. Both games should be very close and we would not be surprised if we got both wrong. We may even change our mind after seeing the teams play.
We are the only national poll to have St. Thomas Aquinas at preseason #1 so are we just not seeing what everyone else is? It's very possible but we think the Raiders are the most talented team in the country. They should've beat eventual national champion Bishop Gorman last year if not for some bizarre coaching decisions. While those decisions were on the offensive side of the ball the Raiders did bring in a couple of NFL superstars ins Jason Taylor and Sam Madison to join the coaching staff. Both have been coaching youth ball for a couple of years now and will definitely help with what could be the nation's top defense. The Raiders did lose a lot on the offensive side of the ball but we were not as high on Jake Allen as others were so we aren't as skeptical. We think Curt Casteel is more than capable of coming in and doing a great job. He is coming off a great Spring and we think he will turn some heads this year. Yes the Raiders lost some incredible skill position players but if there is one thing there is no shortage of in South Florida that is running back and wide receivers.
We thought long and hard about putting Bishop Gorman as #1 but having to go on the road to Mater Dei scared us off. it's hard to pick against the Gaels and we think they could easily win but the Monarchs having the home field advantage will be key. Gorman also has 4 incredibly tough games back to back to start the year so they will have to be up for every game to get the win and that is a tough thing to do. If there is any coach that can do it though it is Kenny Sanchez. As for why we don't have one of the California teams at #1 like anyone else well it's quite simple. The likely hood of those teams having to play each other twice is very high. We can easily seeing them split those two games as they did last year. If they go undefeated outside of losing 1 to each other that will open the door for an undefeated IMG team to win the title and for everyone else to complain about how they shouldn't even be in the rankings.
Without further ado here are our top 25 preseason rankings. If you disagree with them, which we are sure just about everyone will, let us know where we screwed up in the comments. Also please follow us on Twitter @PrepForce1 and like us on Facebook PrepForce to keep up with our weekly rankings and predictions as well as our world famous highlights once the season starts.
| | | |
| --- | --- | --- |
| Rank | School | City, State |
| 1 | St. Thomas Aquinas | Ft. Lauderdale, FL |
| 2 | Mater Dei | Santa Ana, CA |
| 3 | IMG Academy | Bradenton, FL |
| 4 | Bishop Gorman | Las Vegas, NV |
| 5 | St John Bosco | Bellfower, CA |
| 6 | Grayson | Loganville, GA |
| 7 | Centennial | Corona, CA |
| 8 | American Heritage | Plantation, FL |
| 9 | Allen | Allen, TX |
| 10 | Desoto | Desoto, TX |
| 11 | Chandler | Chandler, AZ |
| 12 | East | Salt Lake City, UT |
| 13 | Dematha | Hyattsville, MD |
| 14 | Bergen Catholic | Oradell, NJ |
| 15 | Hoover | Hoover, AL |
| 16 | De La Salle | Concord, CA |
| 17 | Cass Tech | Detroit, MI |
| 18 | St. Joseph Regional | Montvale, NJ |
| 19 | St. Xavier | Cincinnati, OH |
| 20 | Carol City | Miami, FL |
| 21 | Katy | Katy, TX |
| 22 | Brentwood Academy | Brentwood, TN |
| 23 | Warren Central | Indianapolis, IN |
| 24 | South Pointe | Rock Hill, SC |
| 25 | St. Frances Academy | Baltimore, MD |