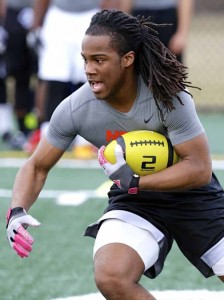 Running back Kentrail Moran is one of the top running backs in the 2016 cycle and is ranked by 247Sports as the No.4 player in Illinois. Prep Force recently caught up with Moran and asked him a few questions about the recruiting process.
Q: How did the recent visit to Illinois go?
Moran: "The recent visit I took to Illinois was a nice visit. My mother and I enjoyed it."
Q: What kinds of things stood out to you and your mother on that visit?
Moran: "The nice academic buildings and the weight room."
Q: What factors do you consider the most when thinking about a potential school?
Moran: "Academics, winning program, playing time, and great facilities"
Q: What has stood out to you about Michigan throughout the recruiting process?
Moran: "The academic system they have, their coaching staff, the great backs they have, and how they produce their players."
Q: What visits do you hope to take in the near future?
Moran: "I hope to visit Michigan, Ohio State, Tennessee, Oregon, USC, Purdue, and Louisville."
Q: At what point would you like to come to a final decision and commit to a school?
Moran: "I'll have to say signing day."
Follow us @PrepForce1 to stay on top of the latest recruiting news and videos