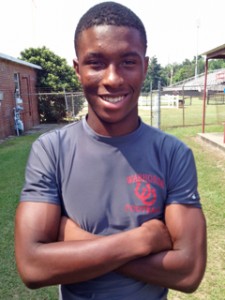 Prep Force recently had the chance to interview Shakur Chisolm, a 2016 running back from Barnwell, South Carolina. We asked him about a few schools in particular and which schools he would still like to visit.
Q: What can you tell me about Auburn and how your visit went?
A: "They have beautiful facilities. I like their offense because they can do multiple things out of it."
Q: How did the camp go at South Carolina this summer?
A: "It went good. I scored like 11 touchdowns and had seven interceptions."
Q: Which schools do you hope to visit in the near future?
A: "I want to see Clemson, N.C. State, Georgia, LSU, Virginia Tech, and Virginia."
Q: What do you know about Clemson at this point?
A: "Their offense is pretty good. I talked to Coach Hobby and he wants me to come up to camp."
Chisolm is a guy that can be explosive in the right offense. He is a player that can make plays in space and be a very exciting athlete at the next level. He will be effective at either running back or slot receiver in college.
Follow us @PrepForce1 to stay on top of the latest recruiting news and videos