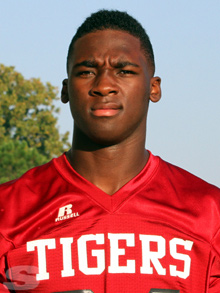 Drake Davis is a 4-star wide receiver in the class of 2016, and has some big schools interested in him. He's currently at Fork Union Military Academy, where's he been for about two months. This 2016 star isn't just a football star though; he also plays basketball and soccer.
Q: What has being at Fork Union been like for you?
Drake Davis: "It's pretty easy. I get along with the people here. I just miss my family. That's the only hard part."
Q: How do you think being at Fork Union helps prepare you for college athletics?
Davis: "It really helps me get bigger and more in shape. But I don't have much time to work on my game, so I just play a lot of soccer and work out getting bigger, faster, and stronger."
Q: How much pressure or persuasion do you get from family and friends to choose LSU?
Davis: "My mom doesn't want me to really, but almost all my friends want me to! But my friends here want me to go to VCU and Duke."
Q: Which sport do you most likely see yourself playing at the next level?
Davis: "Most likely both basketball and football! But I'm going to Spain for a Barcelona soccer camp, so I'll have to see how that goes also."
Q: What kind of things have you been hearing from LSU and Alabama?
Davis: "They were saying that they just wanted me to play for them, but I haven't talked to them recently."
Q: Is soccer something you could really see yourself doing at the next level?
Davis: "Yes possibly"