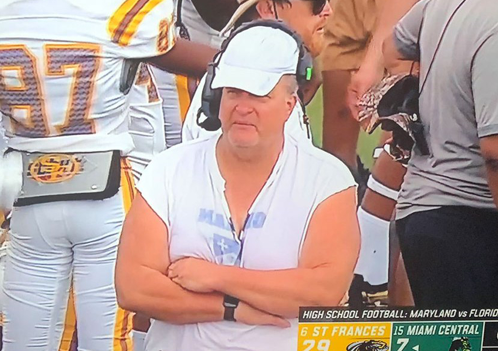 Week 0 is over and with all the big game there is some shake up in the rankings this week. The hardest part of this week's rankings was what to do with the schools that played the "Power 7" and got beat bad. Of course the 2 Texas teams did not play but the 5 big private national power houses that did play looked the part. All 5 made it look easy against very good but obviously under matched public school opponents. To pick the most impressive is hard but it slightly went to St. Frances Academy. They went down to Miami and made Central look small and slow which is impossible to do. It is refreshing to see SFA get a chance to play a team and schedule that is at least close to their level. Their schedule last year, through no fault of their own, was a disaster so nobody could tell how truly great they were. We are already counting down the days (20) until what should be an epic battle with Mater Dei. The Monarchs shut down what usually is a high powered Centennial team.
The big game of the week was St. Thomas Aquinas and De La Salle. The Raiders came out on top in what was not the prettiest of games. The win does move the Raiders in the Top 10 but wasn't convincing enough to get them into consideration for the Top 7. We chose not to drop any of the teams that lost to the top ranked opponents (SFA, MD, SJB and STA) out of the rankings this week because teams that step up and take the challenge should not be penalized that much. We did adjust their rankings based on what we saw. In the case of Miami Central we may have dropped them too far as SFA may just be that good, but they like all the teams will get a chance to prove themselves.
We do have 2 new teams this week. Marietta comes in at #21 after an impressive win over Rome. We knew the Blue Devils were stacked. We just didn't know if this season would be like last year when things didn't click. Against Rome they definitely clicked. They get a chance to really prove themselves with #19 St. Joseph's Prep coming to town. The other new team this week is Carol City. The Chiefs got the double digit win over Deerfield Beach. They will get a chance to prove themselves this week against Miami Northwestern. The winner of that game will definitely be ranked next week.
This week is an absolutely stacked week of games. In addition to the 2 mentioned above there are big games all over the country. It is such a big week of games our Expert Pick'Em this week will be 15 games instead of 10 for the first time ever. It was just too hard to only pick 10. Two games feature ranked opponents this week.  #17 Bishop Gorman travels to Hawaii to take on #9 St. Louis and Texas kicks off this week with #3 North Shore and #16 Katy facing off. Check out who the experts pick in the those games on Wednesday by following us on Twitter @PrepForce1 and like us on Facebook PrepForce. Don't agree with our rankings let us know!
| | | |
| --- | --- | --- |
| Rank | School | City, State |
| 1 | St John Bosco | Bellfower, CA |
| 2 | St. Frances Academy | Baltimore, MD |
| 3 | North Shore | Houston, TX |
| 4 | IMG Academy | Bradenton, FL |
| 5 | Mater Dei | Santa Ana, CA |
| 6 | Duncanville | Duncaville, TX |
| 7 | St John's College | Washington, DC |
| 8 | Lakeland | Lakeland, FL |
| 9 | St. Louis | Honolulu, HI |
| 10 | St. Thomas Aquinas | Ft. Lauderdale, FL |
| 11 | Gonzaga | Washington, DC |
| 12 | Lake Travis | Austin, TX |
| 13 | Narbonne | Harbor City, CA |
| 14 | Centennial | Corona, CA |
| 15 | Eastside Catholic | Sammamish, WA |
| 16 | Katy | Katy, TX |
| 17 | Bishop Gorman | Las Vegas, NV |
| 18 | Saguaro | Scottsdale, AZ |
| 19 | St. Joseph's Prep | Philadephia, PA |
| 20 | De La Salle | Concord, CA |
| 21 | Marietta | Marietta, GA |
| 22 | JSerra Catholic | San Juan Capistrano, CA |
| 23 | Dematha | Hyattsville, MD |
| 24 | Carol City | Miami, FL |
| 25 | Miami Central | Miami, FL |