We have some more clarity in the rankings this week thanks to another round of good interstate games. Three teams dropped from the rankings allowing North Gwinnett (GA), Desoto (TX) and Byrnes (SC) to break the Top 25. All the talk this week will be centered on Miami for the game of the year between #1 Washington and #2 Central. Allen (TX) moves into the top 5 this week with the win of the week over Southlake Carroll.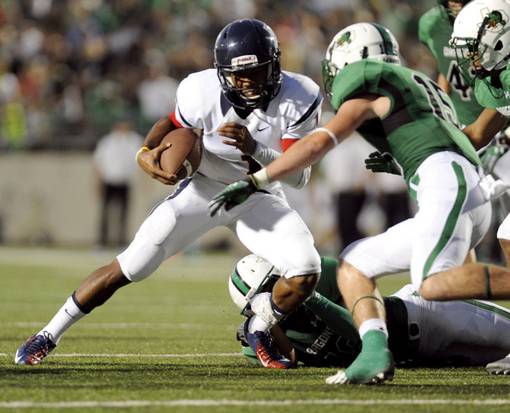 Photo from DallasNews.com
1) Washington(1-0) – Miami, FL – Idle. Had a week to prepare for the upcoming showdown.
2) Central (1-0) – Miami, FL – Didn't fall victim in the look ahead game. They soundly beat a very good American Heritage team 42-20.
3) St. John Bosco (1-0) – Bellflower, CA – Went out and took care of business in their first game of the season 40-7 over Dominguez.
4) Allen (1-0) – Allen, TX – So much for losing on the road in the revenge game at Southlake Carroll. The Eagles looked impressive in the 49-27 victory. The win vaults them into the top 5 as they should be the best team in Texas.
5) Edna Karr (1-0) – New Orleans, LA – Solid 29-0 victory over Bonnabel
6) Junipero Serra (1-0) – Gardena, CA – Drop a spot after holding on for a 28-22 victory over Desert Ridge (AZ). They looked like a top 5 team in the first half and a team that shouldn't be ranked in the second half. Adoree Jackson had 2 long TD catches to help secure the win. They will need to be more consistent going forward.
7) Paramus Catholic – Paramus, NJ – Finally play their first game of the season this week against Gilman (MD)
8 ) St. Thomas Aquinas (1-0) – Ft. Lauderdale, FL – Blasted Miami Northwetern 38-3 behind a strong game from Madre London and the defense. Get a week off before they travel to the Superdome to face defending national champs John Curtis.
9) Dematha (2-0) – Hyattsville , MD – Put another nice victory on their resume with a 29-6 victory over Godby (FL). Godby already had a win over Tampa Plant this season
10) Hoover (1-0) – Hoover, AL – Started the season with a nice 24-10 win over Colquitt County (GA). Face off against Hueytown this week. Only chance Hueytown has is if Jameis Winston comes back to play for his alma mater.
11) De La Salle (1-0) – Concord, CA – Started off sluggish in a 34-14 win over Clayton Valley Charter.
12) Hamilton (1-0) – Chandler, AZ – Defeated Eastlake (CA) 28-17
13) University School (2-0) – Continued rolling with a 61-14 victory over Taravella. It was a balanced effort with the offense, defense and special teams all making big plays
14) Centennial (1-0) – Corona, CA – Won a shootout over a solid Liberty (NV) team.
15) St. Edward (1-0) – Lakewood, OH – Got the season off to a nice start with a 40-24 win over Glenville.
16) Katy (1-0) – Katy, TX – Defeated Klein 41-3
17) Gainesville (1-0) – Gainesville, GA – An impressive 58-28 win over West Forsyth shows that they may be best team in Georgia.
18) North Gwinnett (2-0) – Suwanee, GA – If Gainesville isn't the best team in Georgia then North Gwinnett probably is. They shutout Grayson 35-0 this week.
19) Poly (1-0) – Long Beach, CA – got a workman like 28-15 win over Crenshaw.
20) Mountain Pointe (2-0) – Phoenix, AZ – Followed up the Bishop Gorman win with a 69-0 trouncing of North.
21) Northwestern (1-0) – Rock Hill, SC – Followed up last weeks big win with a 38-17 win over Charlotte Christian.
22) Ensworth (2-0) – Nashville, TN – Another team that avoided a letdown with a 55-13 beating of Brainerd.
23) Desoto (1-0) – Desoto, TX – Should why they will compete in Texas with a 46-7 win over Martin.
24) Byrnes (1-0) – Duncan, SC – Get in the rankings this week thanks a week after taking down Apopka (FL).
25) Cass Tech (1-0) – Detroit, MI – This is a tentative ranking as they did not look very good in their 18-14 victory over Southfield. One more shaky win and they will not be ranked.
Dropped Out
8 ) Sandy Creek – Tyrone, GA
21) Carroll – Southlake, TX
23) Steele – Cibolo, TX
Follow us on Twitter @PrepForce1