Booker T. Washington strengthened their hold on the #1 spot by going on the road to defeat Central in front of a sold out crowd. The game was so big even Bomani Jones tried to sneak in to see it. It's still early in the season but its safe to say if Booker T. doesn't lose this year they will be your national title winners. We have another good week of games including #7 St. Thomas Aquinas visiting #19 John Curtis and #20 Northwestern hosting #22 Byrnes.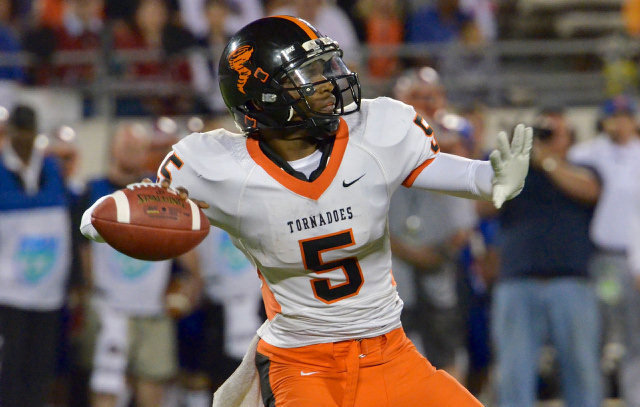 1) Booker T. Washington(2-0) – Miami, FL – Won the showdown against Central 28-17. Now have the inside track to the national title. They still have a number of tough games on the schedule so they must stay healthy and continue to play well.
2) St. John Bosco (2-0) – Bellflower, CA – Defeated Clovis North 48-0.
3) Allen (2-0) – Allen, TX – Defeated Cedar Hill 39-20. Another impressive win over one of Texas's best programs.
4) Central (1-1) – Miami, FL – This is about as far as I can drop them after the loss to Booker T. This might actually even be too far but the rest of the season will tell. This team is very good and was missing a few key players in the game
5) Edna Karr (2-0) – New Orleans, LA – Defeated St. Paul Covington 34-12
6) Paramus Catholic (1-0) – Paramus, NJ – Got an impressive 28-0 over Gilman in their first game of the season
7) St. Thomas Aquinas (1-0) – Ft. Lauderdale, FL – Idle. Travel to the Superdome to face defending national champs #19 John Curtis this week.
8 ) Centennial (2-0) – Corona, CA – Won another shootout over perennial power St. Bonaventure. They have now scored 60 in their first two games against good team and have what appears to be the best offense in the country. Face a Long Beach Poly team coming off a loss this week.
9) St. Joseph's Regional (1-0) – Montvale, NJ – Takes the #9 spot from the Dematha team they just destroyed 42-14. Dematha had a strong showing in their first two games which makes this one of the more surprising results of the early season
10) Junipero Serra (2-0) – Gardena, CA – Drops a spots after the 50-39 win over Oceanside. Its a solid win but other teams have been more impressive so far this year.
11) Hoover (2-0) – Hoover, AL – Defeated Hueytown 35-0.
12) Mountain Pointe (3-0) – Phoenix, AZ – Defeated Cesar Chavez 58-14. Based on results from other early season games their road win over Bishop Gorman looks even more impressive now and they seem to be the best team in Arizona. We will know for sure in a few weeks when Hamilton visits.
13) Hamilton (2-0) – Chandler, AZ – Defeated Brophy Prep 26-9
14) University School (3-0) – Continued rolling with a 57-12 victory over Norland.
15) St. Edward (2-0) – Lakewood, OH – Defeated Buchtel 63-0
16) Katy (2-0) – Katy, TX – Defeated Alief Taylor 49-0
17) North Gwinnett (2-0) – Suwanee, GA – Idle. Move back to the top ranked team in Georgia thanks to the Gainesville loss.
18) Desoto (2-0) – Desoto, TX – Got a big win over Union (OK) 44-20.
19) John Cutris (2-0) – River Ride, LA – Last years title holders jump back in the rankings thanks to a 24-13 victory over Bergen Catholic. We get a chance to see if they are title contenders again this year when St. Thomas Aquinas comes to visit this week.
20) Northwestern (3-0) – Rock Hill, SC – Defeated South Aiken 65-7. Have a showdown with #22 Byrnes this week to see who the King of South Carolina is.
21) Ensworth (2-0) – Nashville, TN – Idle
22) Byrnes (2-0) – Duncan, SC – Defeated Woodruff 82-49. Yes you are reading the score right. They put up 82 this week. Lets see if the offense travels with them on the road to Northwestern this week.
23) De La Salle (2-0) – Concord, CA – Defeated Serra 21-14. Drop after their second sluggish game in a row. Will this finally be the year they lose to a NorCal opponent?
24) Cass Tech (2-0) – Detroit, MI – My faith is this team paid off as they bounced back from a rough first game to beat Northwestern 60-0
25) Bellevue (1-0) – Bellevue, WA – Beat up on rival Skyline 45-7. That should clear the way to an undefeated season for the Wolverines.
Dropped Out
9) Dematha Hyattsville , MD
17) Gainesville Gainesville, GA
19) Poly Long Beach, CA
Follow us on Twitter @PrepForce1