There is some shakeup in this weeks top 10 thanks to some impressive wins and some not so impressive wins. St. Thomas wins the game of the week handing defending champion John Curtis their first loss. Speedy Noil and Leonard Fournette both put on a show in their showdown in New Orleans. It was a tough week for the Southern California powerhouses with all 3 dropping in the rankings.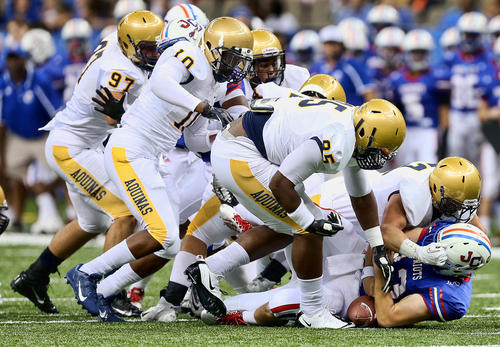 Photo from Sun-Sentinel.com
1) Booker T. Washington(3-0) – Miami, FL – Continued its domination with a 45-0 win over Carol City
2) Allen (3-0) – Allen, TX – Defeated Richardson 52-7
3) Central (2-1) – Miami, FL – Bounced back with a 49-0 victory over Coral Reef
4) St. John Bosco (4-0) – Bellflower, CA – Fall a couple of spots because of the injury to QB Josh Rosen. The extent is not known yet and backup Andrew Katnik actually looked good in a 52-31 win over a good Chandler (AZ) team but without Rosen they are not as good.
5) Edna Karr (2-0) – New Orleans, LA – Got the first big instate win of the season out of the way with a 34-24 win over St. Augustine.They were down at halftime before Speedy Noil took over in the 4th quarter and accounted for 3 TDs. On a side not Leonard Fournette was equally as impressive in the is game but his team came up short. Next on the schedule John Curtis will make a visit in two weeks.
6) St. Thomas Aquinas (2-0) – Ft. Lauderdale, FL – Went on the road and beat defending champion John Curtis 27-13
7) Desoto (3-0) – Desoto, TX – Any team that can put up 61 on Euless Trinity must be pretty good.
8 ) Paramus Catholic (2-0) – Paramus, NJ – Defeated Delbarton, 30-18.
9) St. Joseph's Regional (2-0) – Montvale, NJ – Another interstate beatdown. This time 49-13 over New Smyrna Beach 49-13
10) North Gwinnett (3-0) – Suwanee, GA – Jump into the top 10 after a 36-17 win over Norcross. They have cemented themselves as the best team in Georgia.
11) Hoover (3-0) – Hoover, AL – Defeated Jackson-Olin 56-0
12) Mountain Pointe (4-0) – Phoenix, AZ – Defeated Maryville 71-0. They appear to be hitting their stride just in time for the big showdown with Hamilton.
13) University School (4-0) – Got a nice 37-7 win over a solid Cypress Bay team.
14) St. Edward (3-0) – Lakewood, OH – Got their second huge blowout shutout victory in a row 49-0 over Woodson (DC)
15) Katy (3-0) – Katy, TX – Defeated The Woodlands 37-14
16) Northwestern (4-0) – Rock Hill, SC – Won the battle for South Carloina over Byrnes 42-35 in overtime.
17) Hamilton (3-0) – Chandler, AZ – Drop a few spots after their close 24-20 victory over Pinnacle. Can make us look bad by beating Mountain Pointe next week.
18) De La Salle (3-0) – Concord, CA – Defeated St. Mary's 40-13.
19) Cass Tech (3-0) – Detroit, MI – Defeated Renaissance 32-6
20) Byrnes (2-1) – Duncan, SC – Actually move up with the loss to Northwestern. If that game is played at home instead of on the road the result could have been much different.
21) Colerain (3-0) – Cincinnati, OH – Handed Trinity (KY) their second loss of the season 42-28. They looked better than Ensworth in doing so.
22) Ensworth (3-0) – Nashville, TN – Defeated Pope John Paul II 56-3.
23) Bellevue (2-0) – Bellevue, WA – Defeated Bothell 49-6
24) John Curtis (2-1) – River Ride, LA – Stay in the rankings this week. The loss to St. Thomas is nothing to be ashamed of. The game with Karr will show whether this team stays ranked much longer.
25) Junipero Serra (3-0) – Gardena, CA – Beat Notre Dame 20-13 in overtime. Im gonna show the same confidence that I did with Cass Tech a few weeks back. This team has too much talent to be struggling this much.
Dropped Out:
8 ) Centennial – Corona, CA
Follow us on Twitter @PrepForce1