What a week in high school football it was. Previous #1 Manatee went down to Ft. Lauderdale and had their dream season ended by perennial power St. Thomas Aquinas. Narbonne also had its undefeated season come to the end at the hands of Centennial. While no teams dropped out of the rankings this week, there was plenty of shake up within the rankings. New #1 Desoto won a game for the ages over Carroll and now is in the drivers seat to finish #1. The photo below shows how close Desoto's season came from being over. With the season wrapping up the weekend there are 4 games that match two teams currently in the rankings. That will lead to even more shakeup when our final rankings come out next week.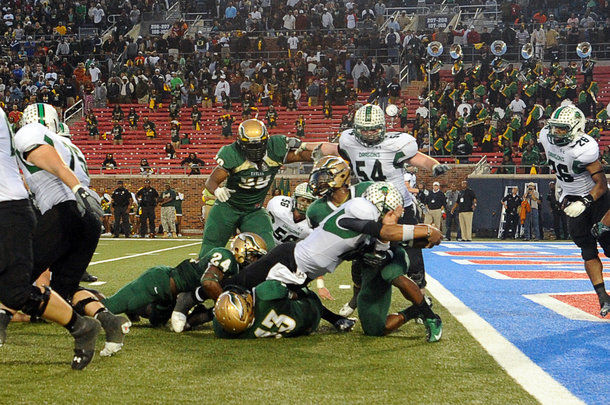 Image from Star-Telegram.com
1) Desoto (14-0) Desoto, TX – Desoto takes over the top spot thanks to the Manatee loss and the huge win over Southlake Carroll. In what many are calling the game of the year Desoto made a goal line stand for the ages to preserve the 49-45 win. Now get face another impressive team in #17 Allen for the state title. With a win there they will finish the season at #1.
2) John Curtis (14-0) River Ridge, LA – Defeated Evangel Christian 35-13 to bring home the Louisiana 2A state title and cap off an impressive season. Still have a shot finishing at #1 if the right Texas teams fall.
3) Bellevue (14-0) Bellevue, WA – Won the 3A Washington state championship 35-3 over Eastside Catholic. After the opening game with Trinity (Euless, TX) they were never really tested.
4) Katy (14-0) Katy, TX – Defeated Cypress Ranch 70-21. Anytime you win a Texas 5A regional championship game by such a large margin you know the team has to be good. Has a big final test against #10 Steele to see who can take home the title.
5) De La Salle (14-0) Concord, CA – Defeated Folsom 49-15. Like Katy they had an impressive regional championship game. They get to face #11 Centennial this week for the California Open Division crown.
6) Norcross (14-0) Norcross, GA – Defeated Colquitt County 41-27. This team just continues to impress and move up the rankings. Most people didn't realize how good this team was most of the year. Not us as we have had them in the top 25 all year. If they beat Lovejoy for the Georgia 6A crown they should finish in the top 5 where they belong.
7) University (12-0) Ft. Lauderdale, FL – Defeated Madison County 24-17 to win the Florida 3A state championship.
8 ) Hoover (15-0) Birmingham, AL – Defeated Opelika 31-0. Won the Alabama 6A state title in impressive fashion. A down year in the state of Alabama cause them to not finish higher.
9) Butler (15-0) Matthews, NC – Defeated Britt 56-28 to bring home North Carolina 4AA championship.
10) Steele (13-0) Cibolo, TX – Defeated Brandeis 28-12. Now face #4 Katy for a Texas state title. Will shoot up the rankings with a win.
11) Centennial(14-1) Corona, CA – Defeated previous #7 Narbonne 41-34 in a down to the wire game that could have been game of the week if not for Desoto vs Carroll. That marks two wins in a row over top 10 teams and 14 wins in a row since an opening season loss to St. Bonaventure. Now they get a state title game with #5 De La Salle to see if they can make it 3 big wins in a row.
12) Ensworth (13-0) Nashville, TN – Idle – Defeated Memphis University School 31-14 to win Tennessee Division 2 AA state championship.
13) Manatee (13-1) Bradenton, FL – Lost to St. Thomas Aquinas 35-18. There is no shame in losing to the Raiders on the road but they barely put up a fight. They simply sould not stop the St. Thomas ground attack.
14) Narbonne (14-1) Harbor City,CA – Lost to Centennial 41-34. They won't make excuses but the shoulder injury to QB Troy Williams caused them to get off to a slow start.
15) Our Lady of Good Counsel (11-1) Olney, MD – Season over WCAC champions.
16) Central (11-2) Miami, FL – Defeated Naples 48-33. They now face undefeated Gainesville for the Florida 6A title.
17) Allen (13-1) Allen, TX – Defeated Skyline 37-17. They are now the only team that can stop #1 Desoto from bringing home the national title.
18) Bishop Gorman (13-1) Las Vegas, NV – Defeated Liberty 63-10 to win Nevada Division 1 state championship
19) North Allegheny (15-0) Wexford, PA – Defeated Wilson 45-10. Now face Coatesville for the Pennsylvania 4A title.
20) Gainesville (14-0) Gainesville, FL – Defeated Navarre 62-26. An impressive state semifinal win get them a showdown with #16 Central for the 6A title.
21) Archbishop Moeller (12-3) Cincinnati, OH – Defeated previous #16 Whitmer 20-12 to bring home Ohio Division 1 state championship. Even with 3 losses they make the rankings for the impressive run to the title. They get this spot for beating Trinity on the field.
22) Edna Karr (14-0) New Orleans, LA – Defeated Neville 29-22. The Cougars get their first 4A state title in school history.
23) Trinity (12-1) Louisville, KY – Defeated Pleasure Park Ridge 67-7 to bring home the Kentucky 6A state championship.
24) Jordan (12-1) Sandy, UT – Defeated Syracuse 58-2 to win Utah state championship. The only loss of the season was a 1 point loss to a very good St. John Bosco team.
25) Whitehaven (15-0) Memphis, TN – Defeated Maryville 36-35 to bring home the Tennessee 6A state championship.
Don't agree with the rankings? Think your school should be ranked? Let us know about them in the comments section below!
Fans JOIN NOW to keep track of your favorite players and their latest updates
Follow Us on Twitter @PrepForce1
Become a fan on Facebook HERE
To check out more Video of some of the best HS football athletes in the country click HERE