We have a new #1 team for the second week in a row after DeSoto went down to the hands of Allen in the Texas state playoffs. John Curtis is the new #1 team with one week left to go in the high school football season. There was a bit of movement thanks to the Florida, Texas and California state playoffs.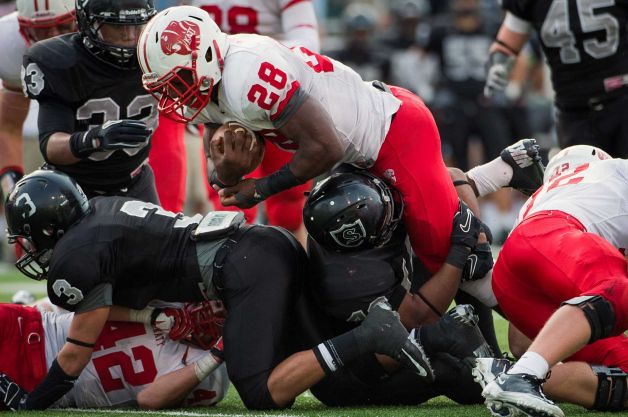 Image from MySanAntonio.com
1) John Curtis (14-0) River Ridge, LA – With the loss by DeSoto they move up to #1 in the nation. Won Louisiana 2A state title.
2) Katy (15-0) Katy, TX – Defeated previous #10 Steele 45-33. Katy continued to roll in the Texas 5A Dvision 2 playoffs. Play Cedar Hill this week for the state title.
3) Norcross (15-0) Norcross, GA – Defeated Lovejoy 21-14. Won the Georgia 6A title behind the running of Alvin Kamara. Georgia 6A was right up there with texas 5A as the toughest division in the country and they finish undefeated and on top.
4) De La Salle (14-0) Concord, CA – Defeated previous #11 Centennial 48-28. They won the CIF Open Division State Title by jumping on Cenetennial early and never looking back.
5) Bellevue (14-0) Bellevue, WA – Won the 3A Washington state championship 35-3 over Eastside Catholic. After the opening game with Trinity (Euless, TX) they were never really tested.
6) University (12-0) Ft. Lauderdale, FL – Defeated Madison County 24-17 to win the Florida 3A state championship.
7) Hoover (15-0) Birmingham, AL – Defeated Opelika 31-0. Won the Alabama 6A state title in impressive fashion. A down year in the state of Alabama cause them to not finish higher.
8 ) Butler (15-0) Matthews, NC – Defeated Britt 56-28 to bring home North Carolina 4AA championship.
9) Allen (14-1) Allen, TX – Defeated Desoto 51-36. Shattered DeSoto's dream of winning the national title. Have to avoid a letdown this week to beat a good undefeatd Lamar team for the 5A Division 1 state title
10) Ensworth (13-0) Nashville, TN – Idle – Defeated Memphis University School 31-14 to win Tennessee Division 2 AA state championship.
11) Desoto (14-1) Desoto, TX – Lost to Allen 51-36. Desoto's impressive season comes to an end at the hands of a very good Allen team.
12) Manatee (13-1) Bradenton, FL – Lost to St. Thomas Aquinas 35-18. There is no shame in losing to the Raiders on the road but they barely put up a fight. They simply could not stop the St. Thomas ground attack.
13) Central (12-2) Miami, FL – Defeated previous #20 Gainesville 37-14 to win Florida 6A title. Central is a hard team to rank. They are playing about as good as anyone in the country right now but the loss to Manatee this season and the fact they have two losses means they come in one below the Hurricanes.
14) Centennial(14-2) Corona, CA – Lost to De La Salle 48-28. The hot streak ended in the state title game at the hands of #4 De La Salle
15) Narbonne (14-1) Harbor City,CA – Lost to Centennial 41-34. They won't make excuses but the shoulder injury to QB Troy Williams caused them to get off to a slow start.
16) Our Lady of Good Counsel (11-1) Olney, MD – Season over WCAC champions.
17) Bishop Gorman (13-1) Las Vegas, NV – Defeated Liberty 63-10 to win Nevada Division 1 state championship
18) North Allegheny (15-0) Wexford, PA – Defeated Wilson 45-10. Now face Coatesville for the Pennsylvania 4A title.
19) St. Thomas Aquinas (13-2) Ft. Lauderdale, FL – Defeated Lincoln 41-25 to win Florida 7A state title. This team peaked late after two early season losses.
20) Washington (15-0) Miami, FL – Defeated Bolles 35-7 to bring home the Florida 4A state championship. Their only loss of the season came at the hands of #13 Miami Central.
21) Archbishop Moeller (12-3) Cincinnati, OH – Defeated Whitmer 20-12 to bring home Ohio Division 1 state championship. Even with 3 losses they make the rankings for the impressive run to the title. They get this spot for beating Trinity on the field.
22) Edna Karr (14-0) New Orleans, LA – Defeated Neville 29-22. The Cougars get their first 4A state title in school history.
23) Trinity (12-1) Louisville, KY – Defeated Pleasure Park Ridge 67-7 to bring home the Kentucky 6A state championship.
24) Jordan (12-1) Sandy, UT – Defeated Syracuse 58-2 to win Utah state championship. The only loss of the season was a 1 point loss to a very good St. John Bosco team.
25) Whitehaven (14-1) Memphis, TN – Defeated Maryville 36-35 to bring home the Tennessee 6A state championship.
Don't agree with the rankings? Think your school should be ranked? Let us know about them in the comments section below!
Fans JOIN NOW to keep track of your favorite players and their latest updates
Follow Us on Twitter @PrepForce1
Become a fan on Facebook HERE
To check out more Video of some of the best HS football athletes in the country click HERE