It was another great week in High School football around the country. Three previously ranked teams fell on their way to a state title. Manatee stays on top of the rankings as they continue to roll through the Florida playoffs. Desoto is making a big push to take over the top spot. Centennial (Corona, CA) make the highest debut in the rankings this week thanks to their win over previous #9 Vista Murrieta in the game of the week.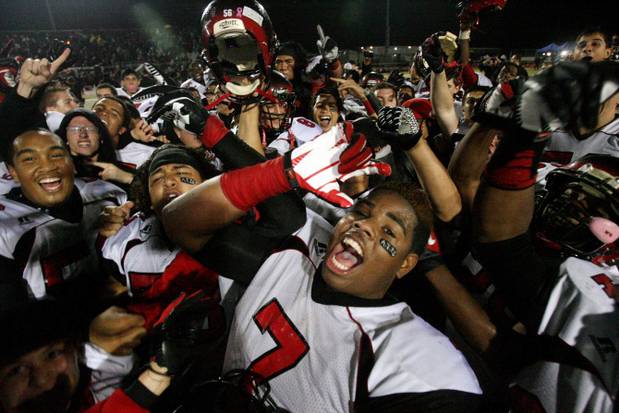 Image from PE.com
1) Manatee (13-0) Bradenton, FL – Defeated Fort Pierce Central 51-0. Play perennial power St. Thomas Aquinas this week in Florida 7A state semifinal.
2) John Curtis (13-0) River Ridge, LA – Defeated Springfield 55-0
3) Desoto (13-0) Desoto, TX – Defeated another really good Bowie team in the Texas state playoffs 24-6. Have a tough game against Southlake Carroll this week which could bump them up the rankings.
4) Bellevue (14-0) Bellevue, WA – Won the 3A Washington state championship 35-3 over Eastside Catholic. After the opening game with Trinity (Euless, TX) they were never really tested.
5) Hoover (14-0) Birmingham, AL – Defeated Clay-Chalkville 44-20. Face Opelika this week in state finals.
6) University (11-0) Ft. Lauderdale, FL – Defeated Central Catholic 42-0. Face Madison County in the Florida 3A state championship this week
7) Narbonne (14-0) Harbor City,CA – Defeated Crenshaw 25-0. Get a big test this week versus #14 Centennial to determine the best team in Southern California
8 ) Katy (13-0) Katy, TX – Defeated Laporte 55-10
9) De La Salle (13-0) Concord, CA – Defeated Logan 52-7
10) Butler (15-0) Matthews, NC – Defeated Britt 56-28 to bring home North Carolina 4AA championship
11) Ensworth (13-0) Nashville, TN – Idle – Defeated Memphis University School 31-14 to win Tennessee Division 2 AA state championship.
12) Norcross (13-0) Norcross, GA – Defeated Camden County 34-20. Now they move onto the Georgia 6A semifinals to face Colquitt County.
13) Our Lady of Good Counsel (11-1) Olney, MD – Season over WCAC champions.
14) Steele (13-0) Cibolo, TX – Defeated Edinburg North 38-0
15) Centennial(13-1) Corona, CA – Defeated previous #9 Vista Murrieta 30-28 in the game of the week. Now face #7 Narbonne.
16) Central (10-2) Miami, FL – Defeated Palm Bay 56-28
17) Bishop Gorman (13-1) Las Vegas, NV – Defeated Liberty 63-10 to win Nevada Division 1 state championship
18) North Allegheny (14-0) Wexford, PA – Defeated McDowell 56-6
19) Allen (12-1) Allen, TX – Defeated Westwood 56-24. Big game this week versus Skyline.
20) Archbishop Moeller (12-3) Cincinnati, OH – Defeated previous #16 Whitmer 20-12 to bring home Ohio Division 1 state championship. Even with 3 losses they make the rankings for the impressive run to the title. They get this spot for beating Trinity on the field.
21) Trinity (12-1) Louisville, KY – Defeated Pleasure Park Ridge 67-7 to bring home the Kentucky 6A state championship.
22) Edna Karr (13-0) New Orleans, LA – Defeated Holy Cross 28-16. Play Neville this week to see who will bring home the Louisiana 4A crown and end the year in the rankings.
23) Gainesville (13-0) Gainesville, FL – Defeated Armwood 42-10. Play a good Navarre team in the Florida 6A state semifinals.
24) Jordan (12-1) Sandy, UT – Defeated Syracuse 58-2 to win Utah state championship. The only loss of the season was a 1 point loss to a very good St. John Bosco team.
25) Whitehaven (15-0) Memphis, TN – Defeated Maryville 36-35 to bring home the Tennessee 6A state championship.
Don't agree with the rankings? Think your school should be ranked? Let us know about them in the comments section below!
Fans JOIN NOW to keep track of your favorite players and their latest updates
Follow Us on Twitter @PrepForce1
Become a fan on Facebook HERE
To check out more Video of some of the best HS football athletes in the country click HERE