We finally have some shake up in the standings as the season winds down and the state tournaments heat up. Five teams from last week's standings had their season's come to an end with a loss. That means we have five new teams in the standings this week. There are three new teams ranked for the first time and two that were previously ranked during the season. Check out the rankings now to find out who they were.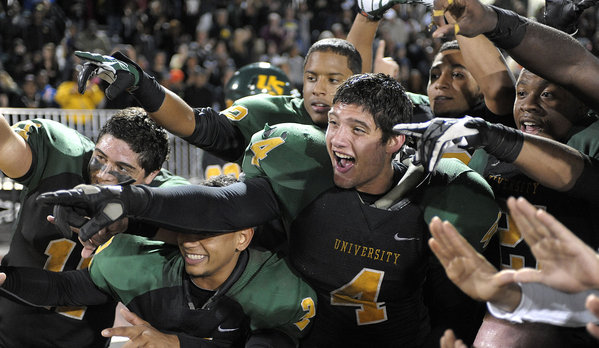 Image from Sun-Sentinel.com
1) Manatee (12-0) Bradenton, FL – Defeated Venice 56-7
2) John Curtis (12-0) River Ridge, LA – Defeated Riverside Academy 62-10
3) Desoto (12-0) Desoto, TX – Defeated previous #17 Coppell 42-14. The impressive victory gets the a slight bump in the rankings
4) Bellevue (13-0) Bellevue, WA – Defeated Mount Si 37-7
5) Hoover (13-0) Birmingham, AL – Defeated Vestavia Hills 21-7
6) University (10-0) Ft. Lauderdale, FL – Defeated previous #15 American Heritage 34-17. I have been touting this team all year as they have plenty of talent on both sides of the ball. They are living up to the hype.
7) Narbonne (13-0) Harbor City,CA – Defeated Carson 39-12
8 ) Katy (12-0) Katy, TX – Defeated Langham Creek 49-0
9) Vista Murrieta (13-0) Murrieta, CA – Defeated Rancho Cucamonga 34-0
10) De La Salle (12-0) Concord, CA – Defeated Amador Valley 49-0
11) Butler (14-0) Matthews, NC – Defeated Mallard Creek 27-0
12) Ensworth (12-0) Nashville, TN – Idle – Faces Memphis University School this week in the Divison 2 AA state championship game.
13) Our Lady of Good Counsel (11-1) Olney, MD – Season over WCAC champions.
14) Bentonville (12-0) Bentonville, AR – Defeated Southside 28-21
15) Norcross (12-0) Norcross, GA – Defeated South Gwinnett 27-7. I have been higher than everyone on this team so far this year. They play Camden County this week in what is a game of the tow best teams in Georgia. They lost the coin toss so they will have to travel to Camden in what shoul dbe the game of the week.
16) Whitmer (14-0) Toledo, OH – Defeated then #21 Mentor to advance to the Ohio state championship game against Moeller.
17) Steele (12-0) Cibolo, TX – Defeated Roosevelt 45-0
18) Central (9-2) Miami, FL – Defeated Miami Northwestern 34-7
19) Bishop Gorman (12-1) Las Vegas, NV – Defeated Reed 49-24
20) North Allegheny (13-0) Wexford, PA – Defeated Woodland Hills 21-14
21) Allen (11-1) Allen, TX – Defeated Mesquite 42-28. Back in the rankings and marching along in the Texas state tournament.
22) Goose Creek (13-0) Goose Creek, SC – Season over. Disqualified from the state tournament for using an ineligible player.
23) Trinity (11-1) Louisville, KY – Defeated Scott County 21-14. The late season loss to Moeller is not looking that bad now. They haven't been nearly as good without James Quick but they are probably going to bring home another state title.
24) Jordan (12-1) Sandy, UT – Defeated Syracuse 58-2 to win Utah state championship. The only loss of the season was a 1 point loss to a very good St. John Bosco team.
25) Edna Karr (12-0) New Orleans, LA – Defeated St. Augustine 28-12. the 16 point win was the closest game of the year so far.