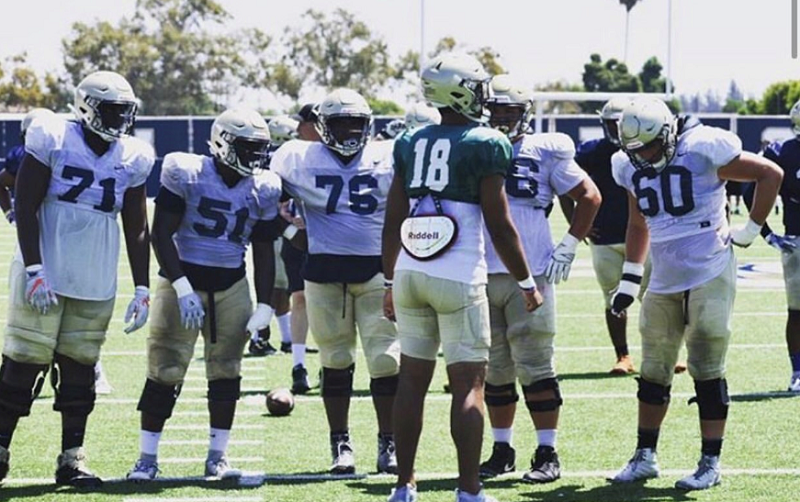 As we say every year we think preseason polls for HSFB are pretty meaningless and don't take them all that seriously. There is so much turn over these days that to try to figure out who is better before a game is played is impossible. These rankings are going to look very silly by the end of the season, but fans ask us for them so here they are. If you're favorite team isn't ranked, or is ranked too low, that is probably a good thing.
With that out of the way we will throw out a little reasoning that is sure to blow up in our faces. The obvious question is going to be about Mater Dei. We will likely have them considerably lower than every other poll. The Monarchs can certainly win the National Title. We just think it's more likely they lose at least 2 games. As you can see we have their rival St. John Bosco at #1. We think DJ Uiagalelei is the best QB in the country and the Braves are going to be on a mission after the way last season ended. It's possible that these 2 teams split games again but we would be surprised is SJB doesn't win the regular season game in a huge revenge spot at home. The Braves also get all their tough games at home while the Monarchs do not. We would not be surprised at all if the Monarchs lose to either St. Frances Academy or St. John's College. Those 2 games are back to back even though there is a week in between. The St. John's could be a big letdown spot on the road. If the Monarchs lose to the Panthers the Cadets are likely to be in trouble. If Mater Dei makes it through that early stretch they will likely jump up to #1.
We think the top 7 teams are pretty clear and after that it gets jumbled. if you followed our rankings last season you know we are high on St. Louis. They get the benefit of having Bishop Gorman come to them. This can be another prove it game for them like the Narbonne game was supposed to be for them last year before all of the suspensions. There is definitely some carry over effect with teams like Lakeland, Gonzaga, Eastside Catholic and John Curtis. All of their last games last year where very impressive. There are some teams that could really make us look silly like Narbonne, Eastside Catholic, Saguaro and JSerra. They all have tons of talent but if it doesn't gel they will plummet. Narbonne is the riskiest as their head coach is currently suspended. We will likely have JSerra higher than everyone but the schedule is in their favor to have some nice resume wins with St. Joseph Regional and Milton coming to California. They also get Mater Dei and St. John Bosco at home so those games could look more respectable than they would on the road.
There are a couple of teams that intrigue us based on their talent and we are taking a wait and see mode. Those are Deerfield Beach, Carol City, Miami Northwestern, Marietta and Southlake Carroll. A sneaky great early season game that we will be glued to is the Deerfield Beach vs Carol City game. The winner of that game will be ranked. We also wouldn't be shocked if Marietta beat St. Joseph's. We just need to see the Blue Devils do it to have the faith to match the talent level after last year's collapse.
The good news with this season there are so many good out-of-state games that their should be less controversy at the end of the year. All of the top teams except North Shore play a tough OOS opponent. We are as excited with this year's slate of games as we ever have been. With all the big games their will sure to be more upsets than we normally see. If you disagree with our rankings let us know through our Facebook @PrepForceOfficial or our Twitter @PrepForce1
| | | |
| --- | --- | --- |
| Rank | School | City, State |
| 1 | St John Bosco | Bellfower, CA |
| 2 | North Shore | Houston, TX |
| 3 | St. Frances Academy | Baltimore, MD |
| 4 | IMG Academy | Bradenton, FL |
| 5 | Duncanville | Duncaville, TX |
| 6 | St John's College | Washington, DC |
| 7 | Mater Dei | Santa Ana, CA |
| 8 | St. Louis | Honolulu, HI |
| 9 | Lakeland | Lakeland, FL |
| 10 | Miami Central | Miami, FL |
| 11 | St. Thomas Aquinas | Ft. Lauderdale, FL |
| 12 | Centennial | Corona, CA |
| 13 | Gonzaga | Washington, DC |
| 14 | Lake Travis | Austin, TX |
| 15 | Narbonne | Harbor City, CA |
| 16 | Eastside Catholic | Sammamish, WA |
| 17 | De La Salle | Concord, CA |
| 18 | Katy | Katy, TX |
| 19 | Saguaro | Scottsdale, AZ |
| 20 | St. Joseph's Prep | Philadephia, PA |
| 21 | Dematha | Hyattsville, MD |
| 22 | JSerra Catholic | San Juan Capistrano, CA |
| 23 | Allen | Allen, TX |
| 24 | Bishop Gorman | Las Vegas, NV |
| 25 | John Curtis | River Ridge, LA |