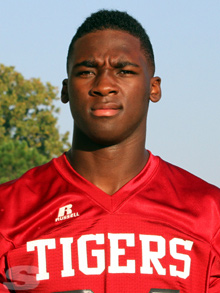 Drake Davis—a 4-star wide receiver currently at Fork Union Military Academy—has another list of impressive offers to add to his football resume. According to Davis, Ohio State, Ole Miss, Mississippi State, Southern Cal, North Carolina, Nebraska, Michigan State, Cincinnati, Auburn, Missouri, Florida, Arkansas, Clemson, Vanderbilt, Kentucky, and Georgia all offered in September.
The star wide receiver actually made headlines a couple of months ago for reasons other than football. He decided to miss the upcoming football season to work on his soccer game, something he has showed a passion for.
I asked him if any of the coaches said anything about him playing soccer this year and he said yes, but it was "no big deal". One school in particular thinks that it gives him an advantage. "MSU (Mississippi State) says it was actually great for my football and I most likely have the best foot work in my class right now."
The thought of playing football in college hasn't been ruled out by Davis playing soccer this season, and we will continue to follow him as he piles up more offers from some of the best schools in the nation.