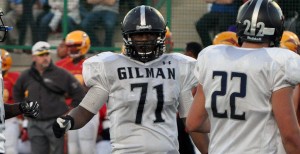 Ellison Jordan is one of the top defensive tackles in the class of 2016, and even though he has many schools coming after him, he is keeping his options wide open.
"I have absolutely no favorites. I am keeping all my options open like my parents told me to do," Jordan said. Some of the schools that are coming after him are Maryland, Virginia Tech, Wake Forest, Michigan State, and Georgia Tech.
He is still early in the recruiting process, so it's hard to tell how many more schools will recruit him, but he has been talking to two schools the most. "Well the main schools that I have been talking to are UMD (Maryland) and VT (Virginia Tech). But, I still want to visit hopefully all of the schools who offered me like Wake Forest, Michigan State, Marshall, UNC-Charlotte, and Georgia Tech."
Jordan also said that he would like to hear more from schools such as Miami, South Carolina, USC, and FSU.
While his options are wide open, he knows what kind of school he would like to attend. "Well first of all, I would like to go to a school that contains good academic standards and have a really good communications program…I would like to go to a school that fits me socially, academically, and spiritually."
Jordan isn't a guy that is trying to rush into a decision, but it will be interesting to see how his visits go over the next year. He is rated by 247Sports as the No.14 defensive tackle in the 2016 class.